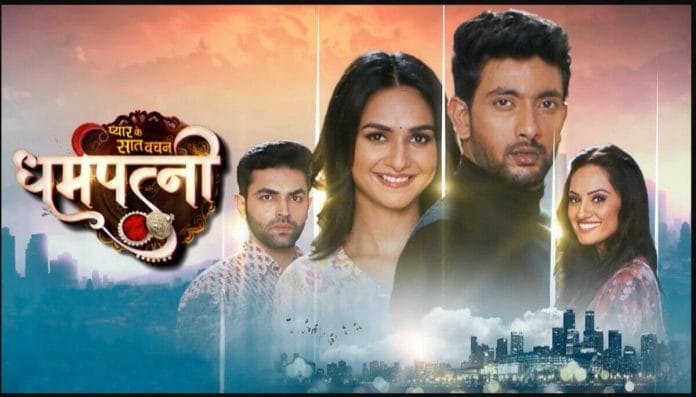 Pyar Ke Saath Vachan Dharampatnii 4th January 2023 Written Update on TellyExpress.com
In today's episode, Ravi's mother comforts him as he cries for Keerti. She gives him hopes that nothing will happen to his Keerti. Kavya also cries. Doctor doesn't pick up Pratik's call. Pratiksha suggests to take Hansa to a nearby hospital. Hansa tells Pratik that she can be pregnant after so many years. Pratiksha tells Pratik to use their rented car to go to the hospital. Pratik agrees. Keerti's father tells police that he wants the criminal who ran over Keerti infront of him at any cost. Police asks him to calm down. Keerti's father says that he can't as Keerti is battling for her life in the hospital. He asks police to check the CCTV footage immediately and says that he feels it's not an accident but a planned murder.
Police gets the car records that were present at the venue. Keerti's father gives the inspector deadline of one day and threats him about his transfer. Doctor operates Keerti. Ravi looks at her from the window. Doctor says that Keerti lose a lot of blood, she needs blood immediately. Kavya comes there crying, tells her mother that all formalities are done. She asks the nurse about her sister, nurse tells her what doctor told them earlier. Ravi, Kavya both cry. Doctor comes out and tells everyone that they don't have AB negative blood and asks the family to arrange it immediately. Ravi looks at Keerti, recalls their moments and cries. Pratiksha's family reach the same hospital.
The receptionist tells them that someone else also got admitted there who came from the same venue. Keerti's mother tries to contact her husband but fails. Few more of Ravi and Keerti's family members come there. They worry for Ravi and try to arrange the blood somehow. Pratiksha passes by Keerti's cabin but fails to see Ravi and Keerti. She prays to Ambe ma to cure whoever is inside the operation theatre. Doctor checks Hansa and says that she is fine, just keeps her under observation. Nurse asks Keerti's mother to contact her father immediately for blood otherwise Keerti's life will be at stake. Ravi lashes out at her as they don't have stock of AB negative blood.
Later he requests her to arrange it from somewhere. She tells Ravi that there is another hospital nearby where the stock can be found. Ravi asks for the hospital address and says that he will go and bring the blood. Keerti's father and Aditya see that their phones don't have any network and their car stopped working. Ravi goes to nearby hospital and learns that they also don't have stock of AB negative blood. Two nurse discuss about Ravi and Keerti's case that they need AB negative blood. Pratiksha hears their conversation and goes to them. She tells them that she wants to donate the blood as her blood group is also AB negative.
The nurse praises her. She goes to the cabin and donates blood but fails to see Keerti. Nurse informs Keerti's mother about the donor. She wishes to meet the girl. Ravi comes there. Keerti's mother tells him about the donor. Ravi goes with nurse to meet and thanks her. He sees that the donor has left. Kinjal takes Pratiksha away as they were waiting for her. Ravi thinks that he is indebted to the donor and has to thanks her. He sees that the donor has left a sweet note for Keerti. He tells Keerti that they together have to find that girl. The episode ends.
Click to read