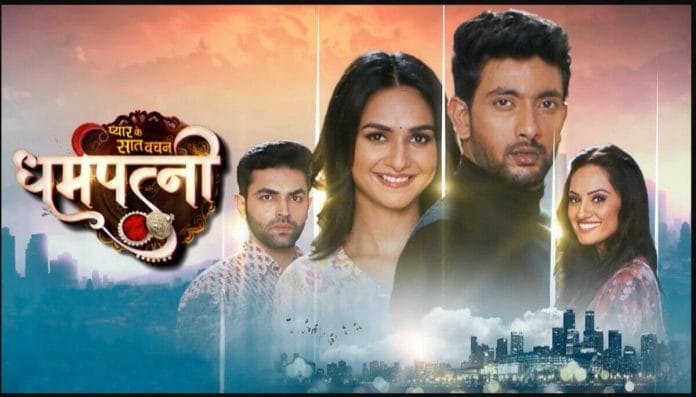 Pyar Ke Saath Vachan Dharampatnii 5th January 2023 Written Update on TellyExpress.com
In today's episode, Nurse comes near Keerti's bed and says that her condition is detoriating. They call the doctor. Doctor checks Keerti and says that they have to do operation. They ask Ravi to go outside. Ravi requests them to save Keerti anyhow. Pratiksha and Kinjal come to Hansa's cabin. Pratiksha gives the medicine to Hansa. Kinjal informs everyone that Pratiksha has donated her blood to someone. Hansa gets to know that the blood was donoted to someone who came from the same venue. Hansa says that those people are quite rich and criticizes Pratiksha as she didn't charge any ammount from them in exchange of her blood.
Pratiksha says that she only tried to help the needy, didn't want to do any deal or buisness. Pratik gets a call and learns that the owner of the rented car is waiting outside the hospital to pick up his car. He goes outside to give him the key. Pratiksha notices that Pratik has left with wrong key and goes out to give him the right key. Ravi waits outside anxiously. Aditya calls him and informs him that they have launched police complain. Ravi says that police may take a long time to take any action and asks them to check the CCTV footage to find any clue about the guilty. He stands beside Malhar's car and unknowingly hits the car using his fist.
Pratik sees that a guy is trying to damage their rented car and sends Pratiksha to check. Pratiksha comes there but fails to see Ravi as he leaves from there. Ravi comes upstairs and sees that everyone is standing silent. He asks them what happened. Nurse tells that Keerti's condition is very critical. Ravi lashes out at her. He looks at Keerti from the window and sees that she has opened her eyes. He goes inside, none stops him. Ravi and Keerti see each other. Ravi tells Keerti that he was sure that Keerti will be fine as she can't live without him so how she can die alone now. Keerti gets emotional hearing his words. Kavya comes inside and sits beside Keerti's feet. Keerti looks at her.
Ravi asks Keerti to focus on him only and says that he will never allow any 3rd person to come between them. Keerti becomes restless and breathes heavily. Ravi calls doctor to check her. Ravi asks her to not lose her breath and not leave him. Keerti cries. She closes her eyes and drops her hand. Everyone cries. Keerti's father comes there and cries holding Keerti. Ravi asks him what happened and asks Keerti to wake up. Nurse removes Keerti's oxygen mask. Ravi lashes out at her and tries to put the mask again. He gives cpr to Keerti.
Doctor tells that Keerti is no more. Ravi becomes silent. His mother brings him back to his senses. He cries his heart out for Keerti. Kavya and others also cry for Keerti. Thakur's man hears everything from outside and calls Raghu. Raghu informs Thakur that Keerti is dead. Thakur becomes happy. On the day of Keerti's funeral Kavya cries holding Keerti's photograph. She comforts her mother. She recalls her curse to Ravi and cries bitterly. In a room, Ravi holds Keerti's dupatta in his hand and cries for her. The episode ends.
Precap – touching the ashes of Keerti, Ravi makes a promise to her that he will not spare her murderer, he will punish him or her. Ravi's father asks him in a phone call if he got to know the murderer's name. Ravi and Aditya go to Pratiksha's locality and searches for her. A lady gives them the adress of Pratiksha.
In today's episode, Ravi's mother comforts him as he cries for Keerti. She gives him hopes that nothing will happen to his Keerti. Kavya also cries. Doctor doesn't pick up Pratik's call. Pratiksha suggests to take Hansa to a nearby hospital. Hansa tells Pratik that she can be pregnant after so many years. Pratiksha tells Pratik to use their rented car to go to the hospital. Pratik agrees. Keerti's father tells police that he wants the criminal who ran over Keerti infront of him at any cost. Police asks him to calm down. Keerti's father says that he can't as Keerti is battling for her life in the hospital. He asks police to check the CCTV footage immediately and says that he feels it's not an accident but a planned murder.
Police gets the car records that were present at the venue. Keerti's father gives the inspector deadline of one day and threats him about his transfer. Doctor operates Keerti. Ravi looks at her from the window. Doctor says that Keerti lose a lot of blood, she needs blood immediately. Kavya comes there crying, tells her mother that all formalities are done. She asks the nurse about her sister, nurse tells her what doctor told them earlier. Ravi, Kavya both cry. Doctor comes out and tells everyone that they don't have AB negative blood and asks the family to arrange it immediately. Ravi looks at Keerti, recalls their moments and cries. Pratiksha's family reach the same hospital.
Click to read