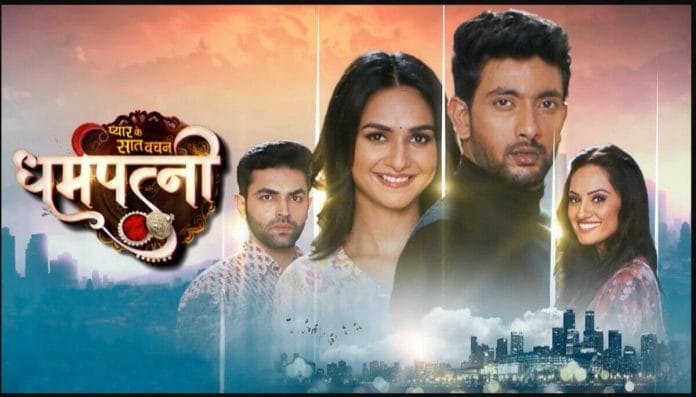 Pyar Ke Saath Vachan Dharampatnii 6th January 2023 Written Update on TellyExpress.com
In today's episode, Ravi sees Keerti. Keerti asks Ravi why he is looking sad as she is with him all the time. Ravi says that he knew Keerti didn't go anywhere, everyone was wrong. Keerti tells Ravi even if she doesn't stay with him she will remain his dharam patni forever. Ravi agrees. Keerti asks him for a dance. Ravi and Keerti perform all the rituals of marriage in imagination. Then they start dancing romantically. Kavya comes there and sees that Ravi is dancing alone in his room. She cries and leaves. She informs Ravi and her parents about Ravi's state and says that she can't see Ravi like this. They all go to Ravi's room and see the same thing.
Ravi tells them that they were wrong, Keerti didn't go anywhere, she is there with him. Ravi's father opens all the windows. Ravi asks him why he is doing all these. Ravi notices that Keerti is not there anymore. His mother says that they are trying to bring him back to his senses. Ravi gets mad and closes all the windows back. He blames them for Keerti's departure. Kavya tells Ravi that Keerti use to tell her that whenever Ravi stays happy she stays happy and when Ravi becomes sad she becomes sad. Ravi says that he will stay happy but asks Kavya to remind Keerti about her promise and stay with Ravi not only for the next 7 lives but for more lives if there are any. Kavya hugs Ravi.
Ravi cries his heart out in her solace. They all are called to attend Keerti's last rites. During Keerti's funeral Ravi waits outside and cries. Kavya feels bad for Ravi. She again recalls her curse and cries. Ravi goes to the funeral spot and picks up Keerti's ashes. He says that he could not keep his promise of protecting Keerti but today he is promising her one thing that he will not spare her murderer, he will find him or her anyhow and give punishment till death. At Pratik's house, Hansa gives tea to Pratik. Malhar comes there with sweets and says that he is coming back from temple. He thanks Pratik for giving him the police inspector job and says that he will never forget Pratik's contribution in his life.
Pratik understands why Hansa is in a good mood today. Hansa says that both Pratiksha and Malhar are lucky to have each other as their life partners. The owner of that rented car comes there. He questions Pratik for returning the car in bad condition. Malhar recalls Keerti's accident scene. Ravi's family worries for him. His father says that time will heal everything. Ravi comes out of the funeral spot. He asks his father for the car's key to reach police station. His father says that police has started investing. Ravi says that the process is slow, he himself wants to find out the gulity and punish him or her. The episode ends.
Precap – Ravi and Aditya go to police station. They check the CCTV footage and spots Pratiksha driving and standing beside the wanted car. They go to Pratiksha's locality and searches for her. A lady gives them Pratiksha's adress. Pratiksha is put behind the bars. She cries. Malhar enjoys outside.
Click to read