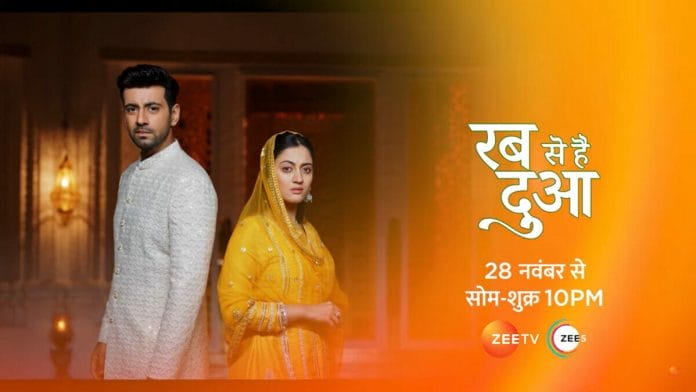 Rabb Se Hai Dua 10th January 2023 Written Update on TellyExpress.com
Episode starts with Hina getting worried thinking about the past. She keeps blaming herself for the mistake, while Dua tries to calm her down. She assures Hina that she wasn't at fault and ask her not to think about the past anymore. She insists the latter to move on from it, but Hina recalls the arrival of Gazal inside their house and says that it is a way of God to punish her. Meanwhile, Raahat also comes there and sits along with Hina on the bed. Dua tells Hina that she doesn't want to deny Dadi's words as she wants her to send Gazal out of the house. She proclaims that Dadi is eldest in the family and it will be rude to deny her words.
Here, Dua continues that it will also be wrong if they send Gazal away from the house as she doesn't have anywhere else to go. Dua states that she as well as Haider wants to help Gazal and proclaims that it's a chance for them to rectify the past. She tells Hina that by helping Gazal they can get rid of the past mistakes.
Dua questions Hina that what she will do as she is in dilemma. Hina looks at her being silent, while Raahat tells Dua thag he can understand her situation but ask her to choose the family instead of anything else. He proclaims that by doing good also if she can't able to keep her family happy, then it won't be worth it. He tries to convince Dua while the latter understands his advice.
Elsewhere, Gazal keep thinking about Haider and recalls all the moments with him. Meanwhile, Gulnaaz hears the conversation of Raahat, Hina and Dua. She gets furious seeing Raahat trying to hide Hina's past mistake and proclaims that she will destroy them. She also smirks stating that now she have a huge opportunity to break Dua and Haider's relationship.
Haider enters Gazal's room and shows his concern towards her. He ask if she is fine? To which she replies positively and ask about him. He also assures that he is fine and both stares at one another. At that time Dua also comes there and gives blanket to Gazal. She shows her care towards the latter and ask her to stay happily. She states that Gazal can ask anything from them if she needs and then goes away along with Haider.
Ahead, Dua praises Haider for his changed behavior towards Gazal, to which he notify that when he was near death nothing else mattered to him other then his family. He also tells that Gazal is rebellious but is very soft from her heart. He talks positively about Gazal and then expresses his love towards Dua for always being with him. He tells that he was thinking about her when he was near death, while she gets emotional and shows her love towards him.
Gazal keeps getting flashes of her moments with Haider. She smiles stating that she haven't met a man like him in her life. She then realises her love for Haider and confesses it to herself. She says that she doesn't knew that he have such a sweet and helpful nature behind his rude behavior. She sees his picture and then notices Dua. She gets shocked and proclaims that she can't betray Dua's trust, as the latter was always there for her when she needed someone.
Further, Dua gets a romantic surprise from Haider as she enters inside her room. She gets mesmerised while he expresses his love for her wholeheartedly. She smiles and ask him to stay with her forever, while he also becomes emotional praising her love and care towards him. He says that he is fortunate enough to get her in his life, while she also gets teary eyes. She falls upon him while he tells that when he was buried inside the concrete, he was thinking about her only.
The episode ends.
Also Check: