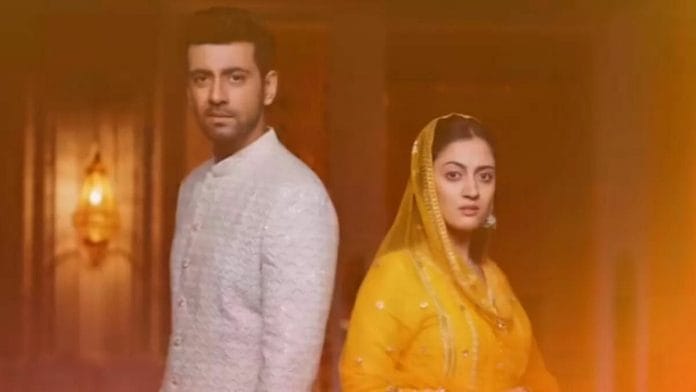 Rabb Se Hai Dua 11th January 2023 Written Update on TellyExpress.com
Episode starts with Haider giving a romantic surprise to Dua. He takes her inside their room, while the latter gets mesmerized seeing the decorations. She becomes emotional by his surprise while he finally expresses his love for her. He holds her hands and proclaims that he is fortunate to get her as his wife. He gets teary eyes telling about all the things she has done for him and his family. He regrets not giving enough love to her and assures that from now on, he will shower her with all the happiness and prosperity.
Here, Dua gets teary eyes hearing his love confession and expresses her feelings for him. She says that she is the favorite child of God, as he has blessed her with a husband like Haider. She mistakenly falls up on him and they gets on the bed. He keeps staring at her and tells that when he was buried inside the concrete and thought that he won't be able to survive, at that time he got her thoughts.
Haider tells about his love for Dua while she hears it with a smile on her face. He then talks about their future and they plans about their kids. She says that she wants them to look like him, while he makes a funny comment about it. Meanwhile, Hina gets a nightmare and wakes up thinking about the past.
Elsewhere, Hina sees someone outside her room and gets afraid. She goes out and ask that who is there? But doesn't get any reply. She goes down stairs following the shadow of a person and recalls all the past incidents. She sees a women and thinks her to be Gazal's mother. She touches her back but couldn't able to see the face due to the darkness.
Hina remembers Dadi's words that Gazal's mother has returned back in form of her. She also recalls how the latter entered their house with her footmarks. She gets tensed and falls down being afraid. She shouts for help, while everyone comes there being worried for her. Haider and Dua gets tensed seeing her state and ask about the matter.
Ahead, Hina keeps talking about the past while Dadi stops her from talking about it. She looks at Gazal and stops Hina from taking her mother's name. They takes Hina to the room and calls the doctor. He checks her and says that she is suffering from trauma. He ask her to take rest while Dua stays with her in the room and ask Haider not to worry. Gazal was about to follow Haider to his room but Dadi stops her.
Gulnaaz takes Gazal to her room and shows fake concern towards the latter. Meanwhile, Dua consoles Haider and ask him to rest in their room. She assures that she will look after Hina. Meanwhile, Dadi worries about the consequences of keeping Gazal in their house. Hina again gets flashes of the past and says that it was all her mistake that Gazal lost her mother.
Further, Dua tries to calm Hina and ask her not to think about the past. She assures that she isn't at fault and ask her to take rest. She also proclaims that she will look after Gazal and will help her to fulfill all her dreams. Meanwhile, Gazal keeps looking at Haider secretly and watches him sleep. She talks to herself that she can't be able to stop her feelings towards him, while Gulnaaz hears her confession and smirks. She proclaims that Gazal will surely cause destruction in Dua and Haider's life.
The episode ends.
Also Check: