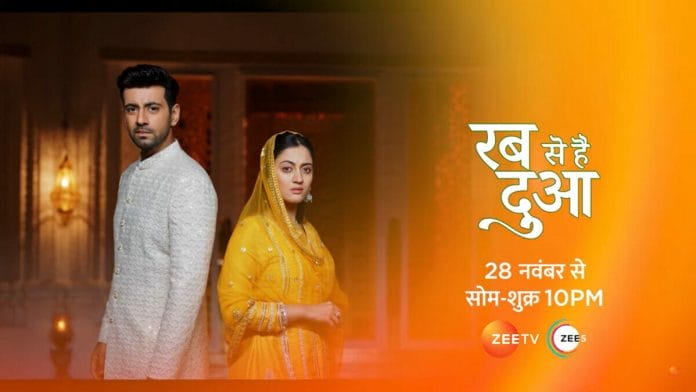 Rabb Se Hai Dua 16th January 2023 Written Update on TellyExpress.com
Episode starts with Gulnaaz showing her fake concern towards Gazal and says that there is a secret which everyone is hiding from her. She states that she feels bad for Gazal as she lost her mother at such a young age and doesn't even know the real truth behind it. Gazal denies to believe Gulnaaz and ask her to stay away from her. She proclaims that she won't get instigated by her and says that her words won't make her against Dua or her family. She states that the latter is doing so much for her and she can feel the truth in Dua's behavior.
Here, Gazal proclaims that Gulnaaz is trying to make her against Dua and shows the newspaper article to her. She states that why suddenly something related to her mother will pop out in front of her after so many years. She suspects Gulnaaz's involvement behind it and ask the latter not to play with her sentiments.
Gulnaaz shows her concern towards Gazal and says that she just want the latter to find about the secret. She proclaims that Raahat has taken a vow from her and that is why she can't reveal the truth to Gazal but ask her to find about it. She also tells that there is four more people who knows the truth. Gazal ask about the other people, while Gulnaaz takes Raahat, Dadi, Hina and Dua's name.
Elsewhere, Gazal gets shocked finding that even Dua is hiding the truth from her regarding the death of her mother. Gulnaaz ask Gazal to be aware of everyone and ask not to trust them instantly. Gazal apologises to Gulnaaz for her rude behavior and says that there is a lot going on inside her mind. She then determines to find about the truth and shows her gratitude towards Gulnaaz for helping her.
Gazal gets a call from Haider and gets elated. She becomes nervous to talk to him and smiles upon receiving the call. He apologises for disturbing her and insists to give the phone to Dua, as she isn't receiving her phone. Gazal gets jealous and lies to him that Dua went out for some work. She sees Dua working and gets irked by her for hiding the secret.
Ahead, Dadi and Raahat tries to make Dua understand that they should send Gazal out of their house before it gets too late. Dua tries to convince them to keep her there, as the latter needs help. She reminds about their past mistake and ask to help Gazal, while at that time Haider comes there and ask about the matter. They hides the truth from him while he scolds Dua for not receiving her phone.
Gazal talks to Hina and ask about the secret related to her mother. The latter was about to tell the truth to Gazal but Dadi comes there and scolds Gazal for disturbing Hina. She sends her away while Hina gets teary eyes. Dadi warns her that if she reveals thr truth then it will ruin their family. Meanwhile, Gulnaaz shows her fake concern towards Hina and scares her saying that Gazal's mother's spirit is roaming inside their house.
Further, Hina gets afraid while others notices Gulnaaz's drama. Dua tries to stop the latter and scolds her for making Hina's health worse. She looks after Hina, while Haider gives her duty to be with his mother all the time. Meanwhile, Gulnaaz smirks seeing Hina being scared. The latter shivers in fear while Dadi and Raahat ask her to stop thinking about spirits. They says that it is all Hina's imagination, but the latter denies to agree with it.
The episode ends.