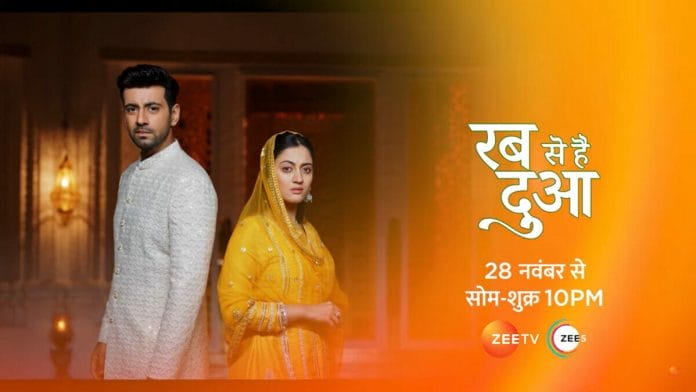 Rabb Se Hai Dua 17th January 2023 Written Update on TellyExpress.com
Episode starts with Dua along with Haider and others getting worried about Hina. The latter gets scared stating that she have seen Gazal's mother's ghost and insists her family to believe her. They tries to calm her down and proclaims that there is nothing like spirits in their house. They ask her not to think about it anymore and proclaims that she needs rest. Dadi ask Haider and Dua to leave from Hina's room, but Dua insists to stay there to look after Hina. Dadi strictly ask her to leave and assures that she will be there for Hina. Dua unwillingly goes away along with Haider.
Here, Dadi locks the door and glares at Hina. She scolds the latter for her behavior and reminds that she have to hide the truth inside herself. She proclaims that Hina's behavior can cause trouble in their family, specially in Haider and Dua's married life. Hina gets tensed for her kids, while Dadi ask her not to think about the past.
Gazal hears their conversation by standing outside their room and proclaims that they are hiding something about her mother's death. She determines to find about it and states that Gulnaaz was true about the secret. Meanwhile, Dua confronts Gulnaaz and scolds her for provoking Hina about ghosts. The latter says that she is doing everything for the betterment of the family.
Elsewhere, Haider stands against Gulnaaz and ask her to stay away from his mother. He lashes out at Gulnaaz stating that he was the reason for the trauma he faced in childhood. He tells about all his sufferings he has faced due to the second marriage of his father Raahat. He gets emotional and says that she has snatched all the happiness from him.
Raahat hears his conversation with Gulnaaz and regrets his decision of having a second marriage. He states that he only have one mother and goes away from there, while Gulnaaz starts creating a scene. She fakes her drama and talks about the misbehavior of Haider. She ask Raahat to take strict action against him but the latter lashes out at Gulnaaz and takes a stand for his son.
Ahead, Gulnaaz gets shocked by the behavior of Raahat but then smirks after creating a chod. Gazal confronts her and ask how can she do all the wrong things to her family? To which Gulnaaz tells that she is doing everything to bring out the truth for Gazal, so that she will learn about the truth which Hina is hiding inside her heart.
Dua takes Haider to their room while he becomes emotional recalling his childhood. He says that he have faced a lot of trouble and proclaims that it was so difficult for him. He proclaims that he lost the innocence of his childhood in worry of Hina and Qayanath, while Raahat hears his conversation and feels bad. He goes to Hina and regrets having a second marriage.
Further, Raahat apologizes to Hina while the latter also gets emotional. He makes a promise to look after all his kids while she get elated by his decision. Meanwhile, Gulnaaz provokes Gazal to confess her love for Haider. She starts talking bad about Haider while Gazal holds her neck and starts choking her. She somehow leaves Gulnaaz and apologizes for her behavior while the latter smirks and says that it isn't wrong to have feelings for a married man and encourages her to marry Haider.
The episode ends.