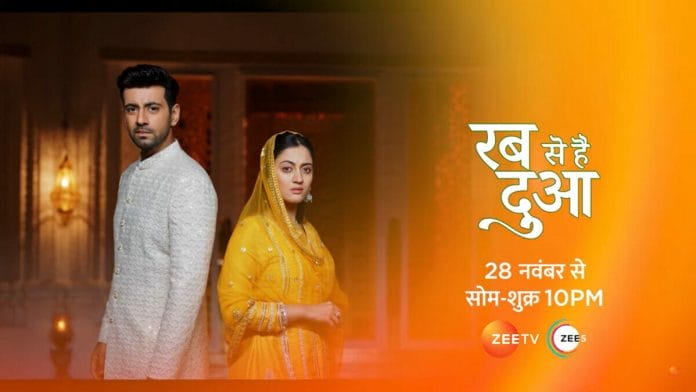 Rabb Se Hai Dua 26th January 2023 Written Update on TellyExpress.com
Episode starts with Dua thinking about Dadi's words and questions herself that if Gazal really have eye on Haider? She gets into turmoil and stresses about the matter. Meanwhile, at that time Ruhaan comes there and tries to talk to Dua. She ask him about the matter as he expresses his worry. She makes him sit and tries to calm him down. She questions about the issue, to which he says that he is tensed about Gazal. He discuss about her disease to Dua and shows his concern. Dua also gets worried and says that Ruhaan is right. She proclaims that Gazal have to look after herself, while he replies that people usually ignores it when it comes to their health.
Here, Ruhaan states that they have to be with Gazal to look after her, while Dua agrees to him. Ruhaan was about to discuss about his feelings for Gazal with Dua and states that only she can help him to get married with Gazal. He was about to discuss it with Dua but at that time Dadi comes there. She stops Ruhaan and Dua's conversation and ask the latter to come along with her.
Dua says that Ruhaan is sharing something important with her, to which Dadi says that he can wait. She proclaims that she also wants to share something really important with Dua and forcefully takes her away from there. Ruhaan gets restless to seek Dua's help in order to marry Gazal, whole Dadi takes Dua inside the store room and says that they will have their secret meeting there only.
Elsewhere, Dadi says that someone have eye on them and they have to be very careful while discussing anything. Dua couldn't able to understand anything while Dadi tells that Gazal is acting about her disease as she don't want to leave the house. She ask Dua to be careful from the latter and proclaims that she can cause havoc on their life.
Dua gets tensed thinking about Gazal and decides to investigate about the matter. Meanwhile, Gazal sleeps with Hina and tries to kill her. She controls herself and proclaims that she will surely take her revenge from the latter. She determines to give her painful death, while at that time Gulnaaz comes there and ask Gazal to open the door.
Ahead, Gazal opens the door for Gulnaaz while the latter shows her excitement and hugs her. She says that she is so proud of Gazal's plan and says that she flopped Dadi's intention to send her away from the house. Gazal ask Gulnaaz to be careful as the latter can expose their plan and ask her to go back to her room. She locks the door while Dua confronts Gulnaaz and ask if she is not getting sleep.
Gulnaaz tries to make some excuse and was about to leave but Dua stops her and threatens to expose her truth. Gulnaaz gets irked by Dua, while the latter sees Gazal sleeping with Hina and thinks about Dadi's warning. Meanwhile, Gazal thinks about Dua's suspicion towards her and smirks stating that she will fulfill her plan before Dua can find out about the truth. Meanwhile, Ruhaan comes to see Gazal while Hina catches his feelings for the latter.
Further, Hina gets elated and prays for Gazal also to accept Ruhaan. At that time Dadi comes there and sends Hina away from there. She confronts Gazal and declares that she is aware of her evil intentions. She packs her bag and ask her to leave while Dua comes there and tries to calm Dadi. Gazal says ill about Dadi while Dua rebukes her and gives a warning. Meanwhile, Dadi drags Gazal towards the door and ask to leave. Whereas, Gazal imagines herself killing Dadi by hitting her head. At that time Haider comes there and stops them.
The episode ends.
Also Check: