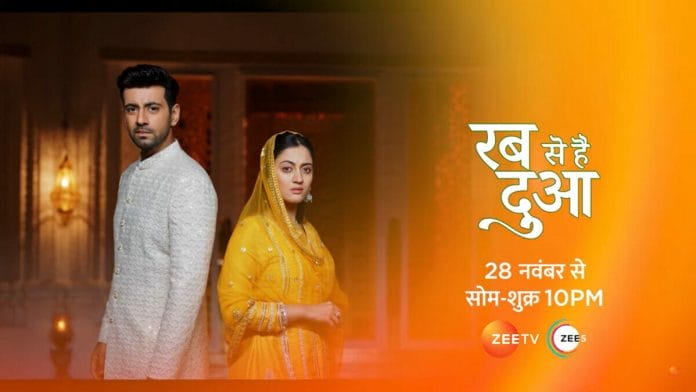 Rabb Se Hai Dua 4th January 2023 Written Update on TellyExpress.com
Episode starts with Dua getting inside the warehouse in search of Haider and Gazal. She screams their name and tries to find them but gets unsuccessful. She doesn't get any response and grows worried. She still keeps looking for them and doesn't loose her hope. She determines to find her husband as well as Gazal as soon as possible. Ruhaan helps her in searching, while she moves the broken concrete pieces in order to look for them. At that time the police officers come there and stops her from doing it. He proclaims that her action can lead to more damage and it will cause much more destruction.
Here, the police officer warns Dua not to move any of the concrete pieces as it can hamper their safety. She grows tensed for Haider and Gazal and starts searching here and there. The police officer shows them the video in which they have warned about more earthquakes. He ask Dua to leave the warehouse and proclaims that her husband isn't there.
The police ask Dua to go out of that area in order to save her life. They states that rescue team also didn't found anyone. Ruhaan also agrees to the police officer and tries to make Dua understand. He says that maybe Haider and Gazal has already left from there and ask Dua also to move out of the warehouse. She denies and states that she can feel Haider's presence inside there and denies to leave without him.
Elsewhere, Dua gets a button and shows it to everyone stating that it belongs to Haider. She tells Ruhaan that her intuitions were right and declares that Haider is stuck inside the warehouse. She proclaims that they have to look for him as well as Gazal, but the police officers denies to believe her. They ask her to empty the place as soon as possible orelse it will be a risk to them also.
The staffs of police drags Dua out of the warehouse forcefully while she keeps shouting for Haider and Gazal. She then starts praying and proclaims to find her husband. Meanwhile, Haider gets worried for Gazal and keep motivating her to stay awake. She looks at him and shares her painful past while he feel sympathy towards her. He keep looking at her and make sure that she doesn't loose her consciousness.
Ahead, Gazal shares her goals and plans for the future with Haider but then gets sad stating that only God knows when a human will die. She looses her hope to survive while he states that his mother won't be able to bear his death and so he can't die inside there. He tries to push the concrete with his legs as well as hands but gets unsuccessful. She smiles towards him seeing his love for his family and assures that he will surely go out of there.
Gazal and Haider keeps motivating one another and assures that they won't die. But, slowly slowly they started loosing their consciousness. Meanwhile, Hina recalls the past and prays to God in order to save Haider as well as Gazal. She proclaims that she won't be able to bear another injustice to the latter and cries. Whereas, Gulnaaz comes there and rebukes Hina for sending Ruhaan along with Dua. She warns the latter that if anything happens to her son, then she won't leave her. Hina goes away from there, while Gulnaaz fumes in anger.
Further, Dua sees a cat and tells Ruhaan that animals always runs away when natural disaster were about to happen. She proclaims that the car is going towards the warehouse, which means that they are safe and the news about more earthquakes are wrong. Ruhaan replies that he can't let Dua go inside, while she tricks him as well as the police and gets inside the warehouse. She keep shouting for Haider and Gazal, while finally they hears her voice. At that time Police and Ruhaan comes there in order to take her away, but Haider starts making some noise in order to get their attention. Dua and others finally hears it and gets shocked.
The episode ends.
Also Check: