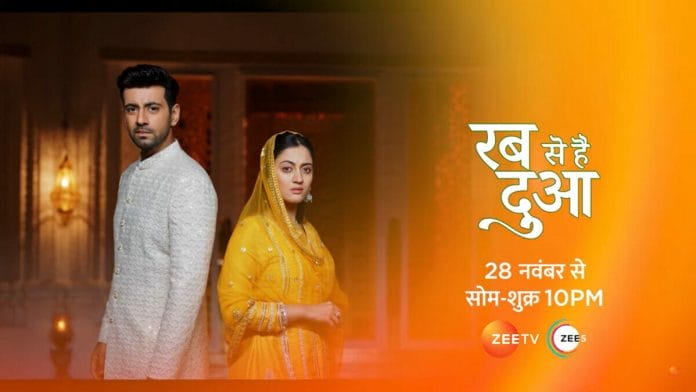 Rabb Se Hai Dua 5th January 2023 Written Update on TellyExpress.com
Episode starts with Dua sneaking inside the warehouse in order to find Haider and Gazal. She hides from Ruhaan and the police officers as they try to stop her from getting inside. She gets a feeling that her husband is inside the warehouse and determines to save him at any cost. She goes there but the police officer sees her and tries to stop her from landing into danger. They follows her while Ruhaan also sees Dua and goes towards her. She starts shouting Haider's name and denies to move out from there without him. They states that there isn't anyone inside the warehouse as the rescuers have already checked there.
Here, Dua denies to believe them and says that her feelings are saying that Haider is there only. Meanwhile, Haider hears her voice and starts producing sound with the help of the rock. She hears the sound and ask others also to listen to it. She states that Haider is the one producing the sound, but the officers denies to agree to her. They again tries to take her out forcefully but she resists them.
Dua ask Haider that if it is him then make more sound. He again hits the rock to produce the sound. Dua gets emotional and proclaims that she already knew it that he is there. She goes inside and stands near the concrete along with Ruhaan. She ask if Haider is inside the concrete then he should make two sound, Haider somehow forces himself to do it and Dua gets elated.
Elsewhere, Dua shows her gratitude towards the God for helping her to find Haider and ask the police as well as Ruhaan to help her to remove the concrete. She along with the other rescue team members gets successful in removing the concrete. They gets shocked seeing Haider and Gazal's state. She hugs her husband being emotional while he cracks a joke to make her smile.
Haider hugs Dua back and praises her will power to find him. He then looks at Gazal and shows his concern towards her. Dua looks at the latter and goes towards her. She tries to wake Gazal up while Ruhaan also ask her to get up. Dua recalls how she rudely talked to Gazal and feels bad for it. She insists the latter to get up.
Ahead, Gazal gets consciousness and shows her gratitude towards Dua for saving her life, to which the latter replies that the God helped her to find them. Meanwhile, Raahat gets frustrated as he couldn't able to contact any of his kids and breaks the phone. Meanwhile, Hina blames herself for all the misery and says that she can't be able to forgive herself if anything happens to her kids.
Hina recalls the past and states that she will confess her mistake to Dua, if Haider comes back safely. Raahat consoles the latter while Gulnaaz burst out at Hina for her past. She then gets irked by Raahat as he stops the latter from revealing the secret. Meanwhile, a concrete falls up in Ruhaan and he gets injured. They immediately aids his wounds and makes him sit.
Further, Dua decides to take Haider and Gazal to the hospital but the latter denies and demands to go to her house, as it's the last symbol of her father. They tries to convince Gazal to go to the hospital but she stays firm on her decision. Haider decides to take Gazal along with him and while Dua gets worried for him. He somehow convinces her and goes along with Gazal, while Dua gets restless.
The episode ends.
Also Check: