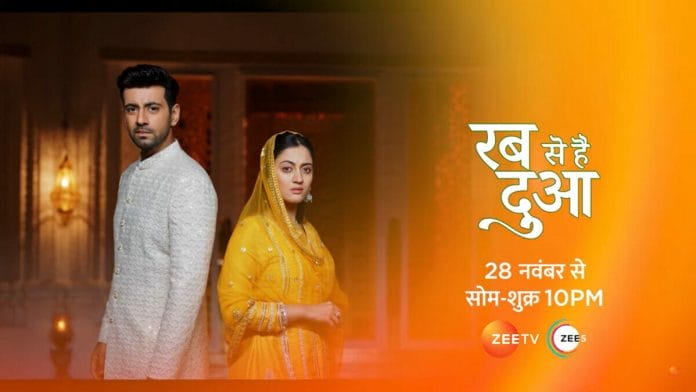 Rabb Se Hai Dua 9th January 2023 Written Update on TellyExpress.com
Episode starts with Hina confessing the truth in front of Dua and Gulnaaz. They gets shocked learning about the matter, while Hina blames herself for the death of Gazal's mother. She also tells about how they denied the last request of Rehmani, when he came to ask Haider's hand for Gazal, as Dua's marriage was already fixed with Haider at that time. Dua comforts Hina and assures that she isn't at fault. Meanwhile, at that time Haider comes there. Hina and others becomes elated upon seeing him and gets teary eyes on witnessing his wounds.
Here, Dadi also shows her concern towards Haider while he stops them from worrying about him and assures that he is fine. At that time Gazal also enters inside the house and everyone gets shocked upon seeing her. Haider tells about the destruction of her house and states that she will stay with them. Hina gets traumatised while Dadi becomes furious upon seeing her.
Gulnaaz smirks and thinks that Gazal's entry will create several drama inside the house. She prepare herseytl enjoy the chaos and waits for the truth to get unveiled in front of Haider and Gazal. Meanwhile, Dua goes towards Gazal and shows her support towards the latter. She says that Gazal can stay in the house till the time she wants and proclaims that they are like her own family.
Elsewhere, Gazal becomes emotional seeing Dua's support while the latter smiles towards Haider stating that he have taken the right decision by bringing Gazal to their house. Hina recalls the past and gets worried. Dua and Haider tries to control her and takes her to the room. They looks after her and ask to take rest. Meanwhile, she gets worried for Dua and ask Haider to always look after her.
Haider gets confused with Hina's behavior and assures her that everything will be fine. Dua handles the situation and says that she must be affected by the news of earthquake. Haider then goes to enquire about his business while Dua comforts Hina and ask not to think about anything. She proclaims that she haven't done anything wrong and ask not to worry.
Ahead, Hina keel sulking in her regret. Meanwhile, Gulnaaz shows her fake concern towards Gazal. Dadi ask Qayanath to take Gazal to her room and drags Gulnaaz along with her to her own room. She locks the door with Raahat and Gulnaaz along with her and ask the latter to give a promise that she won't reveal the truth to anyone.
Raahat also shows his support towards his mother and ask Gulnaaz to make the promise. He warns that if she fails to keep her promise then he will give divorce to her. Gulnaaz gets shocked by his decision and agrees that she won't reveal the secret to anyone. Meanwhile, Gazal cries recalling her memories with her father's house, while Ruhaan consoles her.
Further, Ruhaan expresses his feelings towards Gazal while she keep thinking about Haider. Meanwhile, Dadi goes to Dua's room and ask her to throw Gazal out of the house. She warns the latter about the consequences but Dua says that Gazal doesn't have any other place to go. Dadi states that Haider can do anything to rectify Hina's mistake as she is the most important person for him. She tries to make Dua understand, while the latter gets into turmoil.
The episode ends.
Also Check: