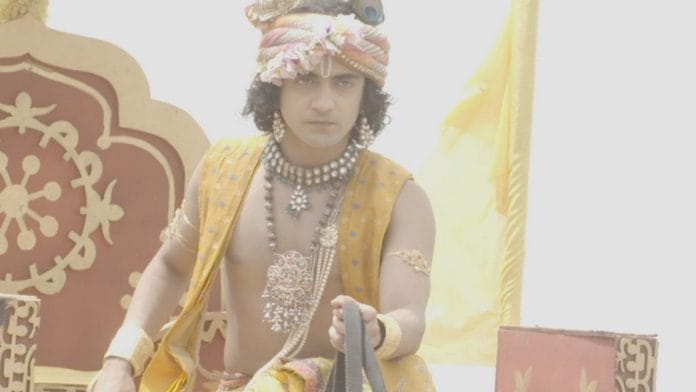 Star Bharat popular show Radhakrishn is having some real high points in the story now a days. We all know and believe from our very childhood that Radha and Krishna are the ultimatum for love and affection in the world. The very concept of pure and unconditional love comes from the source of their love story. As per the current promo Kansh took an oath of destroy and finish the existence of love from the planet so that Krishna can invest his life on the re establishment of love, trust and affection for each other and did not let anyone do any sinful activity.
अपनी प्रिय राधा को, कृष्ण कभी स्वयं से दूर नहीं जाने देंगे!
'राधाकृष्ण' के एपिसोड्ज़ देखने के लिए, क्लिक कीजिए इस लिंक पर: https://t.co/PsrIg6TGPp#राधाकृष्ण | #RadhaKrishn@Beatking_Sumedh pic.twitter.com/PFBlXRtfLf

— STAR भारत (@StarBharat) April 29, 2019

Actually as per destiny on the completion of Radha and Krishna's love story Krishna will kill Kansh and frees him from the sins of life. Hence Kansh decided to end the feeling of love from people's mind and heart so that there can be no love, no RadhaKrishn and also no chance of him for getting killed too. But can he changes the destiny already decided for him?or Krishna will again succeeded into getting his Radha and also will punish Kansh for his sinful acts. However to know all this update we need to watch the actual episodes. Well as per the spoilers given about the show's upcoming almost track, " Radha will distanced herself from Krishna in the upcoming episodes of the show." Viewers of the show have already seen in the last episode that Radha gets brainwashed and provoked by Ayaan and in a haste of emotion she destroyed all the beads of love. Later Krishna came to know that Radha left Barsana already without informing him. In tonight episode the ardent viewers of the show can see Radha destroying the pearls of love and asks Krishna to not to see her again in near future.
Well now it will be interesting to see whether Krishna will be able to handle this situation in his own way.