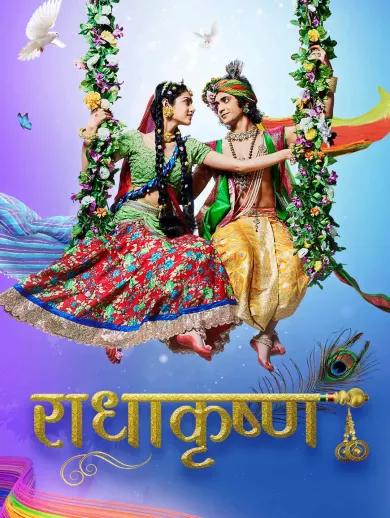 RadhaKrishnn 12th August 2020 Written Update on TellyExpress.com
Episode starts with Arjun pleads to Krishna to make his mother agree for Hastinapur somehow by tomorrow morning. Krishna thinks how he will do it when he sees Radha is there with him and she says if Krishna will make her realise the importance and gravity of love then it will be the best thing. Kunti is sleeping and in her sleep she saw a dream that her five sons are taking blessings from her and there is a sixth person who is coming towards her saying that I am also your son and please give me blessings. She then witnesses the entire birth process of Krishna and also that divinity and excellency of him. She wakes up from her sleep and goes outside when vidur is taking leave from everyone and he says to Kunti that it was my earnest wish to take you people along with me to Hastinapur but since you are not ready to come along then please grant me permission for living.
Kunti asks him to stop and asks for Krishna. He is sleeping below the banyan tree when Kunti comes near him and asks for an apology to doubt his calibre to protect her sons. She says you are a divine personality that one doesn't need any army person with him/her if you are there. Still like an idiot I asked for your army to protect my son overlooking your divinity. Krishna says I am yet to meet my original mother hence can I call you as my mother as I am also like a son to you. Kunti happily agrees and says my son will go to Hastinapur because now I have no fear and no insecurities regarding my son's safety.
Arjun overhears their conversation from a corner and he gets overwhelmed to see the beautiful actions of Krishna. Kunti leaves and Krishna is roaming inside the jungle when Balram comes and says to him, all are looking for you and you are here roaming in the jungle why? He says Vidur is leaving and you are supposed to make Kunti realise that she should be ready to go to Hastinapur. Krishna says everything will be fine and Balram gets shocked when Arjun comes there. He says to Krishna that I have become your biggest devotee from now on. Balram sister Krishna there is nothing better can happen than this. Krishna says there is nothing good about this because it can never be a person responsible to establish righteousness.
A devotee can express their love for their idol, can give them immense respect but they can never be a person walking with his head high with righteousness. Everyone gets ready to leave for Hastinapur when Krishna asks Arjun to go from a different path. Radha says to Ayaan, I will celebrate janmashtami like always and will make butter for Krishna.
Precap – Duryodhan asks to announce him the future head of Hastinapur soon.