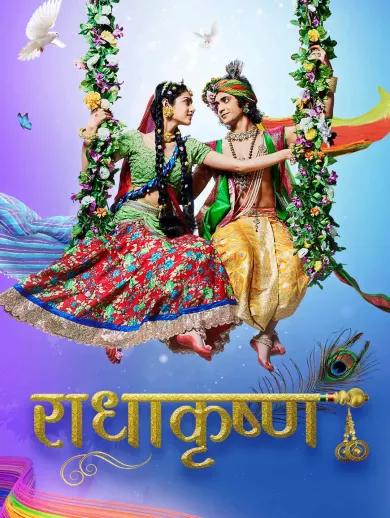 RadhaKrishnn 20th August 2020 Written Update on TellyExpress.com
Episode begins with everybody is sitting and the assembly hall and doing that discussion regarding the future of Hastinapur and also who should be the next person who deserves to sit on the throne. Arjun was asked to keep his opinion and he is waiting for the approval of Krishna so that he doesn't goes wrong.
Dhritarashtra asks Arjun to keep his opinion in front of all when he says I am not able to come to any conclusion right now so it will be better if others keep their opinion first. Bhisma says, my dear highness in my opinion and for the peace of the state it is better to go for the division of the state.
Now it is turn of Karn who says to Dhritarashtra he is a warrior and a warrior likes fight.He says if Bhim has decided to go for a fight then I am ready to take a fight with Arjun. Shakuni things that if any conflict between ground and Arjun happens then his entire plannings will go in vain and he says that will anybody ask for my opinion in this assembly?
Shakuni said that division of the state is not an option and being a king himself drashta should decide who can be the next one eligible to replace him. at the end of all Arjun said that if I have to keep my opinion then I would like to say that I don't have any clarity in my mind right now regarding my decision but I want to say that I don't want a division of the state and also regarding the conflict with Karna, I am not interested to go for any fight with him.
Krishna who can see everything what is happening in the assembly hall being in a far place is disappointed with Arjun for being not able to keep forward his opinion. He thinks that I was looking for one who can be my partner in this journey and also someone who is fearless, knowledgeable and have the guts to keep forward his opinion in front of all.
Duryodhan is getting impatient you know what was happening in the assembly hall of Hastinapur when a man come to him with a message. He reads it with his brother Dushashan and gets happy to know that no division has taken place in the assembly of Hastinapur. Dhritrashtra announced in front of all that people who are presented in this assembly hall have talked about the division in the easiest way.
However it is just not possible to divide your motherland like that and also the way Arjun was kept his silence, he proved that it was not a wise call to take and also Arjun made it prominent that he is scared of Karna with the way he denied to face him. Bhim protested against this statement and talks on behalf of Arjun but he is sitting there like a statue looking for Krishna only.
Krishna says to Duryodhan I am here with you from long and you are telling me I am favouring Pandavas. Duryodhan gets happy and says I am really impressed because I thought that she will we favouring the band was only but you are actually neutral and I want you to come with me to Hastinapur so that after the announcement of me becoming the next king, I will be able to host you properly by myself.
Krishna agrees to go ahead with him and when he reaches Hastinapur Arjun comes in front of him and approaches him. he says to Arjun that if that matter is only concerned to you then I will have never speak but just because that this matter is connected to everybody else and also to the matter of Dharam and all are asking me to keep my opinion themselves so I will speak today.
Precap – Krishna speaks in front of all in Hastinapur.