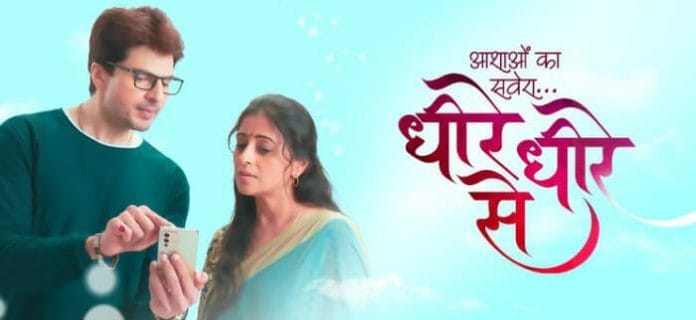 Show Dheere Dheere Se is hitting the harsh taboo of the society. The widows are ill-treated and they struggle to raise their voice. They silently die each day. Now to break the stereotype show like Dheere Dheere se is attempting to bring the change.
Proper execution of Bhawna and Raghav's story is expected. Show fans fear if they will ruin the story ahead. So far Rahil Azam and Reena Kapoor are catching attention. Their acting chop is making the show watch worthy.
A social media user wrote: #DheereDheereSe thank you Star Bharat for this Hauntingly Beautiful show hope this show help ladies like Bhavna out there to learn to stand on their own 2 feet, to learn not to seek shelter from a toxic selfishness family. And please dont distract from the main plot in long run
Fans can't stop praising the show storyline and the Jodi of Reena and Rahil
comes up with a brilliant show again #DheereDheereSe Absolutely brilliant Topic picked up by makers
, 2 episodes were very good #ReenaKapoor is so real performer and #RahilAzam the charmer as always and his Entry was
#DheereDheereSe Looks good and appealing, the hard reality of our society, widow is treated as lower caste & asked to dependent on others Watched for
sir but his entry is in tomorrow's episode and #ReenaKapoor mam was very good
Are you watching Dheere Dheere Se? Share with us in the comment section below.
On story front, Bhavna misses her husband. Raghav is surely a knight in shining armour for Bhavana. Both are accidentally meeting each other. In the future episode, Raghav will misunderstand that Anchal is trying to jump from the balcony. He will enter Bhavana's house to rescue Anchal. Bhavana will fear Bhanu will react seeing Raghav in the house. How Raghav will handle the situation will be interesting to watch.
Show also features the very talented Aman Verma as parallel lead.
Stay tuned for TV serial latest news and gossips.