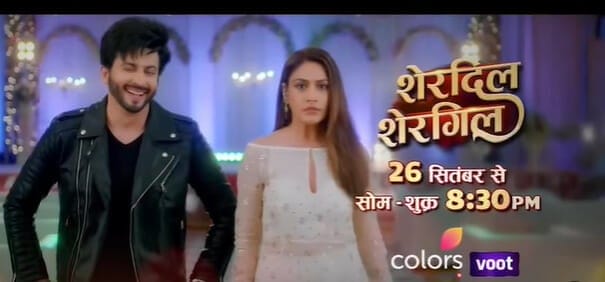 Colors show Sherdil Shergill is making noise before its launch. The show is a story of two individuals that hold different perceptions in life. What will happen when their paths will cross each other; is the whole concept of the story. The twists and turns will be engaging surely. Sherdil Shergill has become one of the most awaited shows. It is all set to hit the screen from 26th September, 8:30 PM on colors.
The prime time slot is important. Sherdil Shergill is expected to rule the TRP chart. The Jodi of Dheeraj (Raj) and Surbhi Chandna (Manmeet) is oozing chemistry. Raj is carefree while Manmeet is serious. Both will have clashes but duo dealing with the situations together will hold audience breathes.
Raj and Manmeet is compared to Bollywood blockbuster Jodi Raj and Simran of DDLJ. A video of Raj and Manmeet is going viral. Raj of Sherdil Shergill pranked on Manmeet with a rose same like in DDLJ Raj stunned Simran. The makers have used the same background while recreating this scene.
Despite being reserved, Manmeet somewhere wants to get love. The gleaming eyes and smile when she spots Raj with a rose coming closer to her says it all. Manmeet will fall for Raj first or it will be otherwise, time will only tell. So far Raj is impressed with Manmeet's strong personality and indiduality. Will this infatuation turn into passionate love or not, Raj and Manmeet's journey will be watch worthy.
Share with us if you all like Raj and Manmeet. What you expect from this upcoming daily soap.
Talking about the other promos of the show, the makers release two eye-cathching promos. We already reported about them.
Revealing about the show and the character 'Manmeet', diva Surbhi told the media "her Shergill character Mameet is a strong girl with a practical outlook on life.
The show has the right kind of subject for our audience, which at the same time is lighthearted."
Additionally, Manmeet is focused and a mother too. She explains marriage is not necessary to become a mother as there are several other ways. Raj counters Manmeet. Manmeet and Raj are not on a same page. What brings them closer will be interesting to watch.
Tell us if you all are excited for Raj and Manmeet.
Follow us for TV serial news and updates