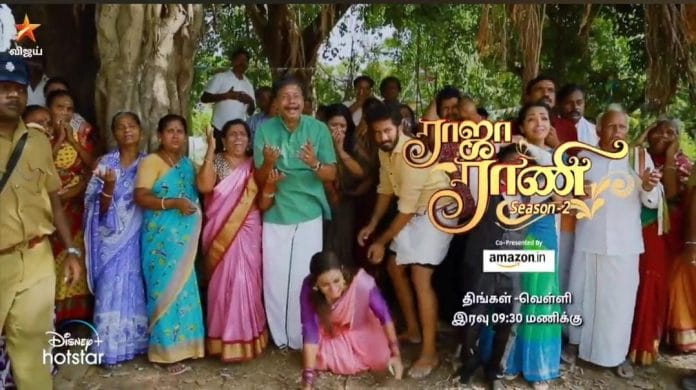 Raja Rani Upcoming Story, Spoilers, Latest Gossip, Future Story, Latest News and Upcoming Twist, on TellyExpress.com
Vijay tv fame" Raja Rani" launched it's season2 with different plot. This show is now concentrating on Selvam will escape from Police!
In the previous episode we saw; Parvathy revealed to Sandhya that Selvam was a terrorist he was the one kidnapped her and placed bomb here. Sandhya called Saravanan to alert him but Selvam attend the phone and put it in flight mode. Selvam tried to escape from there. Adhi noticed Parvathy there and tried to go there but police stopped him. Sandhya met Saravanan and informed to him Selvam was terrorist.
Both started searching for him. Adhi informed to his family that police found out Parvathy but Selvam whom kidnapped her and placed bomb here. Later Saravanan fighted with goons and captured Selvam.
In the upcoming episode viewers will see; Police will take Selvam from temple but he manage to escape from them. Sandhya will feel something fishy and rush near Sakkarai. She will check his coat and find bomb in it. Saravanan will take the bomb and runs away. Sandhya will cry seeing the bomb blast there.
What will happen next? Will Saravanan survive? When will police caught Selvam?
Upcoming episode will answer to our all questions stay tune with our space for more updates.