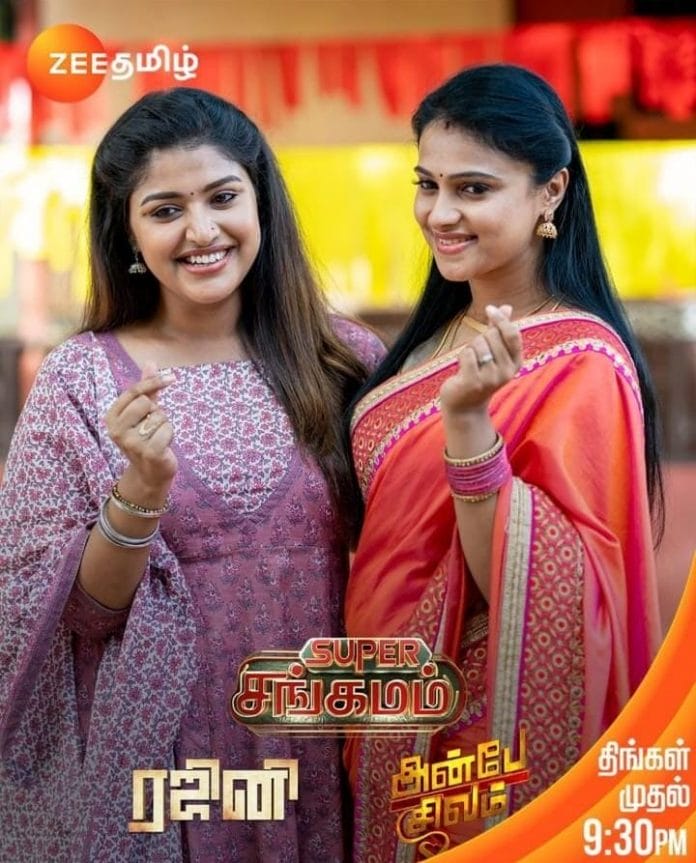 Rajini Upcoming Story, Spoilers, Latest Gossip, Future Story, Latest News and Upcoming Twist, on TellyExpress.com
Rajini and Anbe Shivam are super hit shows of Zee Tamil. To entertain the audience both shows brings Super sangamam. Now story focusing on both Rajini and Anbu's family meeting in Temple function!
In Today's episode we see; Rajini family stopped the van. Elders left to drink tea. Goons passed comments about Radhika and Rajini. Radhika slapped the person whom teased her. He held her hand and created a problem. Parthiban intervened and fought with the goons. Shivam joined with him to beat the goons. Rajini and Anbu hugged each other. Later Rajini family reached the temple and did pooja on Divya's name. Selvi reached there along with Anand. Divya shared her grief with Rajini.
In the upcoming episode viewers will see; Parthiban asks Ranjini to accept his love, but she firmly refuses. Parthiban suggests asking God's opinion. Ranjini gets confused when God's opinion comes on Parthiban's favor. Shivam's parents meets a priest outside of the temple. The priest cautions them to keep Anbu safely in the upcoming four days. Shivam's parents get worried on hearing this. Anbu and Ranjini have a talk. They share about their respective life story with each other. Anbu tells how she married Shivam.
Anbu finds that Ranjini likes a boy, but refuses to accept it. Anbu advises her to miss a good person. Selvi says to Diviya that she wants to get Anand and Divya in the temple secretly which shocks Diviya. Shivam advises Parthiban to win Ranjini's heart.
What will happen next? Will Rajini stop Selvi? Will Arasi plot against Anbu? How will Rajini and Anbu gonna face the issues?
Upcoming episode will answer to our all questions stay tune with our space for more updates.