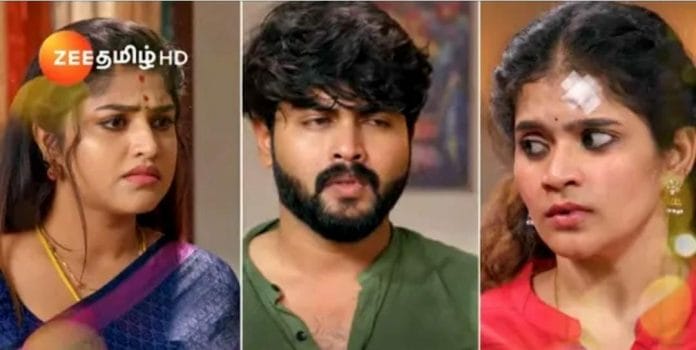 Rajini Upcoming Story, Spoilers, Latest Gossip, Future Story, Latest News and Upcoming Twist, on TellyExpress.com
Zee Tamil popular show Rajini has unique story line. This show is about Rajini's selfless sacrifice for her family. Now serial focusing on Rajini to learn the truth
In the previous episode we saw; Radhika mixed the alcohol in the juice. Unaware of Radhika's intention Parthiban and Aravind took it. Kuberan asked them to join with them. After they drank it everyone started behaving strange . They praised the taste of the juice.
Radhika and Shankari were waiting for the apt time to show up. Rajini and Ranjitham noticed them behaving weird. Ranjitham scold them for drinking in house. Aravind said her they drink juice. Radhika came there and suggested them to play truth or dare game.
Ranjitham denied it but Radhika was adamant in her decision. Aravind got truth in the game. Radhika asked him who is favourite to him? He mentioned Rajini name and said he loved her for last 5 years. Parthiban fight with him. He cleared that he is treating her as his good friend.
In the upcoming episode viewers will see; Parthiban will get a truth option in game. Radhika will mention does he loved anyone before marriage? Parthiban will reveal that he loved Rajini from his college days.
Later, Kuberan will reveal to everyone that Shankari only giving half of the money in home and saving remaining money. Maarimuthu will reveal to everyone that he sent goons to kill Parthiban. Rajini will glare at him.
What will happen next?
Will Rajini forgive Parthiban? When will Rajini accept Parthiban?
Upcoming episode will answer to our all questions stay tune with our space for more updates.