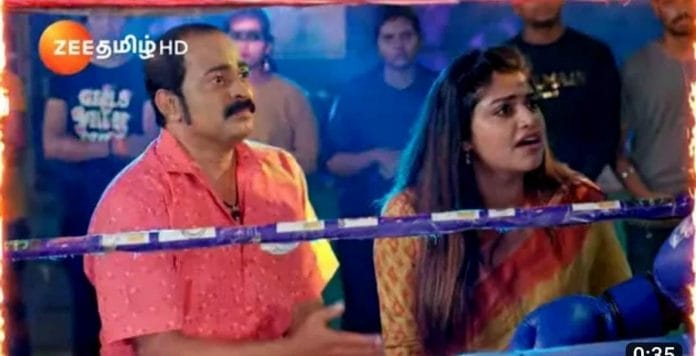 Rajini Upcoming Story, Spoilers, Latest Gossip, Future Story, Latest News and Upcoming Twist, on TellyExpress.com
Zee Tamil popular show Rajini has unique story line. This show is about Rajini's selfless sacrifice for her family. Now serial focusing on Rajini in a tight spot
In the previous episode we saw; Radhika fainted after the argument. Doctor confirmed to Radhika about her pregnancy. She requested the doctor to hide this matter from everyone. The doctor informed Rajini about it.
Later, Rajini visited her company. CEO advised her to concentrate on her work. She isn't like before. Meanwhile, Thendral got disappointed seeing Parthiban practicing in his own. She hide this matter from Rajini. Meanwhile, Radhika demanded Rajini to take a good decision in Ranjitham life.
Rajini learnt from Parthiban about tournament date. She asked for a leave. CEO refused to give leave to her. Rakesh said to her that he will take over her meeting.
In the upcoming episode viewers will see; Parthiban will punch on punching bag. His hand will be hurt. Kuberan will find a glass pieces from it. He will suspect Radhika for it. Meanwhile, Rajini and Kuberan will attend the tournament to encourage Parthiban.
Parthiban will fail to defend himself in the competition. Thendral will inform Rajini about Parthiban's attitude. She will reach there to help Parthiban
What will happen next?
Will Rajini forgive Parthiban?
When will Rajini accept Parthiban?
Upcoming episode will answer to our all questions stay tune with our space for more updates