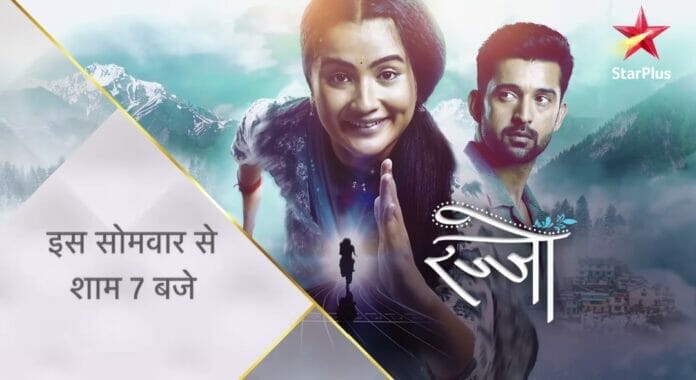 Rajjo 21st January 2023 Written Update on TellyExpress.com
The episode starts with Arjun scolding Rajjo. Rajjo holds his hand and places it on her cheek. She asks Arjun why he is saying something else when he isn't in his senses and backs off from his words when he is in his senses. Chirag arrives there and says that people speak the truth when they're not in their senses. He asks Arjun why he is making things complain. Arjun requests Chirag not to interfere between him and Rajjo. He adds that, moreover, Chirag always takes Rajjo's side. He is determined to leave for USA the next day. He leaves.
Chirag offers juice to Rajjo who is worried about Arjun. She refuses to drink it and asks him to do something to stop him. Chirag says that he can't understand why Arjun, who never does anything without asking him, wants to go to USA suddenly. He says that he loves Rajjo, but the latter has difficulty believing this after he hurt her many times. Madhu arrives there and confirms that Arjun loves Rajjo. She says how worried Arjun was when she fainted. She also says that he proved it on many other occasions. Rajjo asks then why Arjun refuses to admit it and wants to go away from him. Chirag recalls Arjun talking with Madhu. He says that because of something related to Madhu. He says that he saw him questioning Madhu the day when she fainted.
Chirag doubts that there is some fight between Madhu and Arjun over Rajjo and Arjun's relationship. Manorama and Rajjo refuse to agree with Chirag as Madhu, who got Rajjo and Arjun married and wants them to move on in their relationship. Chirag asks Rajjo to think and say from when Arjun started to act weird. Rajjo thinks and says that his behavior changed after receiving a call on the landline in Madhu's room. Chirag says that they will get their answer from that call.
On the other hand, Madhu confronts Pushkar about trying to harm Rajjo many times. Pushkar admits it and says that he did all this to help Madhu as she wants to keep Rajjo away from running. Madhu says that she's not a fool. She can understand he did all this to kill Rajjo and prevent his past front getting exposed. She says that she could have been exposed because of him. Pushkar says that he doesn't care about it.
Here, Chirag says to Rajjo that he learned from the maid that Arjun broke the landline in Madbu's room and strictly said to not fix it again. Chirag gets the phone call records. He asks Rajjo the day and time the call came. Rajjo says that it was the day when they all went to the temple and says to him the time. Chirag says that only one call had come at that time.
There, Madhu refuses to help Pushkar hereafter and threatens to expose that Rajjo is his illegal daughter. Pushkar also threatens Madhu to expose her truth in front of her family. Here, Chirag dials the number and puts the phone on speaker. Rajjo, Chirag and Madhu are shocked to realize it's Guruma's number. They wonder what Guruma would have told Arjun that he wants to leave for USA and why she would want to ruin their relationship. Rajjo wonders what Arjun is hiding from them.
Madhu prepares to go to meet Guruma with Jhilmil by taking two plates full of gold. Meanwhile, Rajjo and Chirag take on the disguise of foreigners and arrive at Guruma's ashram to find the truth and expose her. Guruma's bodyguards stop them to check them. They take their phones from them. Rajjo receives Manorama's call. The bodyguard asks her to and receive the call outside. Rajjo reads the message sent by Manorama that Arjun is leaving and asks Rajjo to come immediately. Rajjo gets into a dilemma about whether to return home or not. However, she decides not to go without exposing Guruma. Rajjo and Chirag meet Guruma. Rajjo has hidden a phone in her dress to record what Guruma says.
The episode ends.
Precap: Manorama says to Rajjo that shouldn't stay anymore here as Arjun's need got fulfilled and he doesn't need her anymore. Rajjo asks Arjun to decide the fate of their relationship and asks if he wants to stop her or let her go forever.
Click to read