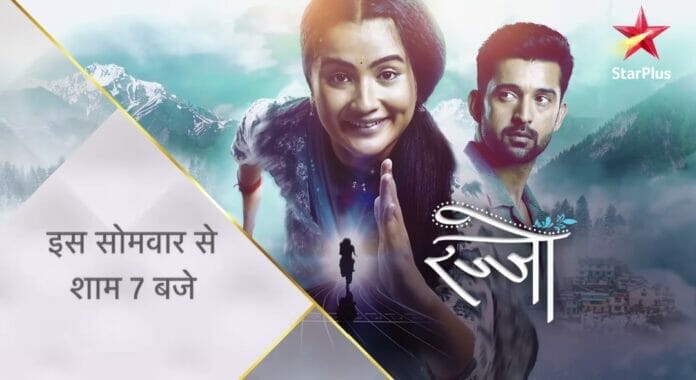 Rajjo 23rd January 2023 Written Update on TellyExpress.com
The episode starts with Rajjo imagining slapping Guruma after knowing her truth. But she controls her anger since it's not the right time. Meanwhile, Madhu is wondering why Guruma isn't answering her calls. She prays to God to stop Arjun somehow. Here, Chirag angrily asks Guruma if she can do anything for money. Rajjo holds his arm and calms him down. Rajjo and Chirag take Guruma's leave. Rajjo's nuptial chain falls from her on the floor. Guruma picks it up. She stops Rajjo and questions her about it. Rajjo and Chirag lie. But Guruma notices some vermillion particles on her hairline and orders her guards to catch them. The guards catch Chirag. Chirag shouts, asking Rajjo to run away with the phone. Rajjo runs from there. Guruma asks her bodyguards to catch her. The bodyguards go after Rajjo.
There, Thakurs try to convince Arjun not to leave and ask why he wants to leave. But Arjun stays firm in his decision. Here, the bodyguards chase Rajjo. There, Kalindi asks where Rajjo is, as only she can stop Arjun. Swara says that Rajjo has gone out with Chirag. Sia cries and asks Arjun not to leave. The family also begs Arjun not to leave. Here, Rajjo reaches outside the Takhurs' house. Guruma's bodyguards catch Rajjo. Guruma snatches the phone from Rajjo's hand. She throws it on the floor and breaks it by pressing it with her feed. Inside the house, the family begs Arjun not to leave. Pratap asks them to stop and asks Arjun to tell them the reason for his decision before leaving. Here, Chirag arrives and Rajjo starts to laugh. Guruma looks at them confused. Chirag calls the police and asks them to arrest Guruma, shocking the latter.
There, Pratap questions Madhu. Pratap urges Madhu to tell him what the matter is. He shouts at Madhu when she remains quiet. Here, Chirag shows Guruma the phone which has her video recording. He says that she broke her daughter's toy phone and Rajjo and him exchanged the phone while running. Rajjo says to Guruma that they have exposed her now. There, Arjun asks Pratap not to get angry. He says that this is his decision to leave. He takes his blessings and walks out of the house.
Madhu and the family are shocked to see Guruma and the police. Pratap notices Chirag and Rajjo's disguise and asks what all this is. Chirag says that he will get to know it in a while. Rajjo says that she and Chirag found out the reason for Arjun's decision to leave. Arjun asks what's happening here. He says that he is getting late for his flight. Rajjo goes to Arjun and says that he isn't going anywhere now. She says to the family that she will explain to them everything after going inside, as she doesn't want this matter to become public. Chirag asks the inspector to take Guruma inside the house. They all go inside. Rajjo asks Arjun to go inside the house too. She says to Arjun that she will not let him go anywhere now.
Rajjo exposes Guruma's truth in front of the family by showing the video recording. Guruma also confesses the same. Manorama breaks into tears after learning the truth. Rajjo scolds Madhu for believing in such superstitions instead of God. She then scolds Guruma and says that she should be punished for breaking a relationship and hurting their feelings. Arjun feels relieved that Rajjo finally knew the truth. Police arrest Guruma and take her from there. Rajjo thinks that Rajjo also loves her. Arjun says to Madhu, who is crying, that hereafter no one is going to believe her.
The episode ends.
Precap: Manorama doesn't want Rajjo to stay in the Thakurs' house anymore. Rajjo wants Arjun to decide about the future of their relationship. She asks Arjun if he wants to stop her or lose her forever.
Click to read