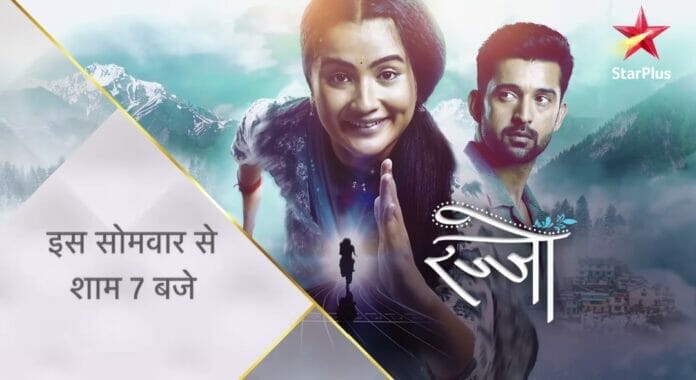 Rajjo 23rd September 2022 Written Update on TellyExpress.com
The episode starts with Madhu taking Rajjo and Manorama to the doorstep. Arjun and Rajo look at each other feeling emotional. Arjun runs towards Rajjo. Madhu closes the door, preventing Arjun from reaching Rajjo. Later, Arjun is sitting in his room. He is surprised when Rajjo gets into his room through the balcony. Arjun says that he thought that she left without meeting him. Rajjo says that she can't go without meeting him, else she will die.
Arjun scolds Rajjo for talking about death for a small matter. Rajjo says that she will miss his scoldings. Rajjo expresses her apology for all her acts and her gratitude for Arjun's all his favours. Rajjo and Arjun become emotional. They praise each other's qualities and ask each other never to change. Rajjo leaves her scarf to Arjun as her memory. She asks Arjun to take care of himself. Arjun asks Rajjo if she's happy to marry Vicky.
Meanwhile, Manorama wonders where Rajjo is. She says that maybe she forgot something. Manorama asks Vicky when he bought the car. Vicky says that this is his friend's car. Manorama then questions about the weird smell that is coming in the car. Vicky lies that it's the smell of car freshener. He chews paan stating it's very famous here and then spills it. He is keeping an alcohol bottle in his pants pocket.
Arjun says to Rajjo that he knows and can sense that she's not happy to marry Vicky. Rajjo says that she argued with her mom for the first time, but in the end what she wants will happen. Arjun asks Rajjo what she wants. He says that she wants to stay in Lucknow and work. Rajjo says that her wishes will be defeated in front of her mom's wishes as she loves her very much. She further says that her mom suffered a lot being alone. She doesn't want her to go through the same, so she wants her to get married. She says that this time she can't be adamant and has to marry.
However, she promises to do something to make her know the world. She says that her mom agreed to stay in this city and she will consider it as her half victory and won't give up. Arjun says that Chirag saved only his number on the phone he gave her and asks to call him if she needs anything. Rajjo hugs Arjun feeling emotional. Arjun hugs her back.
Rajjo says to Arjun that she's leaving. Arjun watches Rajjo leaving in the car. He says that Rajjo has to take care of herself as he is not with her to take care of her. He recalls Vicky's dirty comment about Rajjo's shape and thinks that Vicky isn't the one he is pretending to be. Later, Arjun is resting his head on Madhu's lap. His thoughts are filled with Rajjo. Madhu asks why he is sad. She says that she doesn't like to see him sad.
She asks him to be happy as he is going to wed soon. She suggests making the list for the wedding. Arjun leaves the house saying that they will discuss it in the evening. Arjun hears Rocky and his friend talking about Vicky driving the car recklessly. He is worried about Rajjo and leaves the house. Meanwhile, Rajjo and Manorama ask Vicky to drive the car slowly. But he continues to drive the car too fast, which scares Rajjo and Manorama. On the other hand, Arjun is on the way in his car looking for Rajjo. He tries to call her, but her phone isn't reachable.
The episode ends.
Precap: Manorama draws a line between Rajjo and Arjun. She says that their universe are different, there can't be any other relationship between them than the boss and the labor's relationship. She says that if their meeting is a coincidence, their separation is their fate.
The episode starts with Rajjo saying to Rajjo that she has to marry Vicky. She tries to convince Rajjo to wed Vicky. Rajjo refuses. Manorama tells Rajjo that a girl can't lead a life without a man's support. Meanwhile, Pushkar bribes Vicky to marry Rajjo. Arjun finds Vick at the backside of the house and asks what he is doing there. Vicky gives an excuse and leaves. Arjun is suspicious of Vicky. There, Rajjo reminds Manorama that there's no man in her life. Manorama says not to compare their fates, hers is different. Rajjo says that the mistakes they make are responsible for humans' fate. She doesn't want to make that mistake. She says that she wants to make their life better and God gives them an opportunity for that by making them meet a good person like Arjun.
Manorama says that Rajjo changed after coming to the city and she is going against her mom. Rajjo says that she will marry the guy she will choose, but requests her to give her some time to become financially independent. She says that they have just met, then why she wants to send her away from her by getting her married. She asks what she's scared of, why she wants her to get her married immediately. Manorama says that Rajjo has to marry Vicky. She can live in the city after marrying Vicky as his office is located near the Lucknow and fulfill all her dreams. She says that many girls fulfill their dreams after their marriage. She says that everything will be fine after Rajjo's marriage.
Rajjo says that Manorama has some hidden reason behind her decision to get her married. Manorama says that she loves Rajjo the most in the world. She never wants any harm to Rajjo. She refuses to give any justification for her decision and says that Rajjo can do whatever she wants after her marriage with Vicky.
Click to read