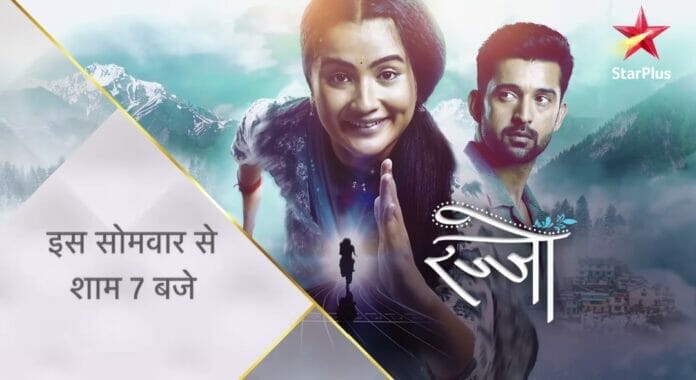 Rajjo 26th September 2022 Written Update on TellyExpress.com
The episode starts with Manorama asking Rajjo to build her life with Vicky. She then tells that his and Rajjo's universes are different, so asks him to forget Rajjo. She says that if their meeting is a coincidence, their separation is their destiny. Manorama asks Rajjo to come and sits in the car. Rajjo and Arjun look at each other, recalling their all their moments together and feel emotional. Zalima Kyu hai dooriyaan plays in the BG. They both get into their respective cars, looking at each other.
A police officer sees Vicky driving off with a girl. He is suspicious of Vicky and clicks his photo. Kalindi is with Kavita. She vents out her anger about Madhu insulting Kavita in front of everyone. She also complains about Madhu loving Arjun more than Chirag. Kalindi cries and says that she tried to keep her relationship with Chirag alive, but couldn't. Kavita suggests Kalindi have a second child with Chirag to remove the distance between her and Chirag. Kalindi refuses. She says that she doesn't love him anymore. Kavita says that Kalindi has to maintain the relationship for the society. Rocky arrives there and stops at the doorstep, seeing Kavita with Kalindi. Kalindi sees Rocky. Kavita asks Kalindi to choose between herself and her family. Kavita leaves. Rocky hides.
Vicky brings Rajjo and Manorama to a cottage. He says to Rajjo that this is a nice place and he used to hang out there with his friends. Meanwhile, Arjun returns home. Madhu confronts Arjun about going after Rajjo. She hands him the nuptial chain they made for Urvashi. She asks him to tie it around Rajjo's neck and settle with her in America, but asks to perform her last rites before that. Arjun says that Madhu is a misconception. Madhu questions Arjun about his feelings for Rajjo.
Vicky says that this cottage is his second house in this city. He says that he wants to keep Rajjo in the city after the wedding. Rajjo asks where his real home is. Vicky says that he stays here. He shows a door and asks Rajjo to check her new room. Rajjo opens the door and sees a bathroom. Rajjo asks Vicky that he said it's his second house, but he doesn't know where the rooms are located. She asks Vicky if he is fooling them. Vicky manages by saying that he intentionally did it to fool Rajjo. Manorama assures Rajjo that Vicky will keep her happy. Vicky says that the wedding can take place here. His grandfather also agrees with him. Rajjo says that there's no need to hurry the wedding. Manorama recalls Pushkar's words and says to do their wedding soon. Vicky and his grandfather agree. Rajjo whispers to Manorama that she doesn't care about her opinion, she's not Arjun to understand her feelings.
Madhu rebukes Arjun for always being behind Rajjo. Arjun says that Rajjo met with an accident. He heard it over the phone and rushed to save them. They are fine now and left. Madhu says that, but Arjun's thoughts are still behind Rajjo. Arjun hugs Madhu and assures her that it's not the case. He imagines Rajjo and smiles. He breaks the hug. He compliments the decoration. Arjun's cousin notifies Madhu that Arjun is bleeding. Madhu is worried about Arjun seeing Arjun's bleeding wound.
Rajjo says to Manorama that she did wrong to Arjun. Manorama says that Rajjo's anger will vanish when she understands her decision. She asks Rajjo to trust her. Manorama helps Rajjo to get ready for Shagun. Rajjo tells about how Arjun always saved her and cared for her. She says that she thought the men, including her father, were selfish, cruel and fraudulent after hearing the village women's talk. But Arjun isn't like that. He is good from inside and outside. She cries.
The episode ends.
Precap: Rajjo and Vicky perform the pre-wedding ritual while Arjun is also performing his pre-wedding ritual. But they are both missing each other. Vicky shows Rajjo to his friends and plans to sell her.
Click to read