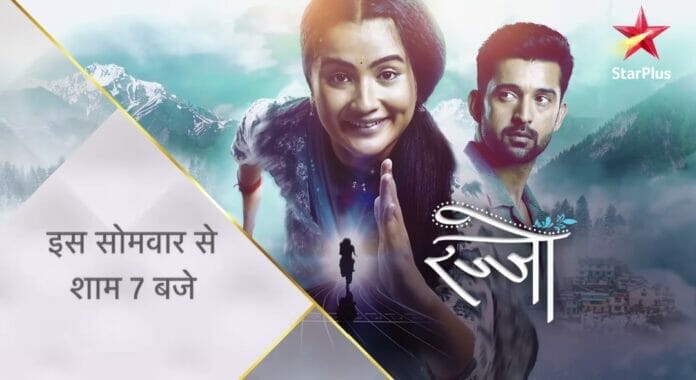 Rajjo 27th September 2022 Written Update on TellyExpress.com
The episode starts with Arjun getting treated for his wound in the hospital. The doctor says that he won't feel pain as he gave him an injection. He remembers a FB in which Arjun cared for Rajjo and smiles. Arjun thinks that he should stop thinking about Rajjo as she's happy in her life and focus on Urvashi. He takes out his phone to message her, but he is unable. Meanwhile, Rajjo is waiting for Arjun's call/message. Manorama arrives there and says that Rajjo should wear a black bangle along with yellow bangles. But Vicky forgot to bring it. Just then, Rajjo's friend and her mom arrive there to attend Rajjo's wedding. They say that they brought black bangles for Rajjo.
Rajjo's friend is excited to see Rajjo's new phone and clicks a selfie with her. She then clicks Rajjo's photo alone. Rajjo sees her photo and says that if she sends this photo to Arjun, he will pull her leg. Rajjo's friend asks whom she's talking about. Rajjo says no one and asks her to return her phone. Her friend refuses and insists on telling whom she was talking about. Rajjo's photo gets sent to Arjun mistakenly. Arjun sees Rajjo's photo.
Madhu, Chirag, Pushkar and Kavita are in the hospital. Chirag assures Madhu that Arjun is fine and gives her a water bottle to drink. Madhu says that she feels happy to see Chirag fulfilling his elder brother's duties. Pushkar says to Madhu that, in one way, it's good that Arjun got a small injury and got saved from any big danger.
Madhu says that Rajjo is the biggest danger and says that it's good that she left. Pushkar receives a call and goes aside to talk. The doctor says to Madhu and Chirag that they can meet Arjun. They thank him and go inside. The doctor sees Pushkar and recognizes him as the same person who brought a pregnant Manorama to him.
Chirag sees that Arjun is looking at Rajjo's photo and he calls out to him to alert him. Arjun hides his phone before Madhu sees Rajjo's photo on his phone. Madhu says to Arjun that the doctor said that he is fine. Arjun jokes that he wants to dance in his pre-wedding ceremony. Chirag asks if he is sure, if he doesn't have any pain, referring to his heart. Arjun says that he doesn't want any more pain and puts his phone in his pocket. Meanwhile, the doctor confronts Pushkar. He says that years before, Pushkar brought a pregnant Manorama to him to do her abortion even without her knowledge.
He says that he did search for Manorama and found out she's an athlete. He rebukes Pushkar for ruining Manorama's life. He pushes him and walks away. Arjun and Kavita see this and ask Pushkar why the doctor behaved rudely towards him. Pushkar lies that the doctor behaved that way as he refused to give a donation to his hospital. Pushkar thinks that Manorama and Rajjo are haunting him and it's good that he let Vicky handle them.
Vicky sees Rajjo talking to her friend and is happy about making money by trafficking Rajjo. Meanwhile, the police inspector checks Vicky's photo in their records and finds that he is a wanted criminal who traffics girls. He says that he couldn't click the car number in which Vicky went, but he clicked the other car photo number. He asks the constable to get details about that car. Vicky shows Rajjo to his friends and plans to traffic her.
Arjun comes downstairs getting ready for his Tilak ceremony. Arjun sees Urvashi and thinks that he should stop doing wrong to Urvashi. He deletes Rajjo's photo from his phone. He compliments Urvashi about her appearance. He apologizes to Urvashi for hurting her and promises her to think only about them hereafter. He clicks a selfie with Urvashi. Meanwhile, Vicky clicks a picture of himself and Rajjo. Manorama asks Rajjo to smile. Rajjo forces a smile. Here Arjun dances with the family members and Madhu is happy to see him happy.
Rajjo hears a car horn sound. She thinks Arjun has come and runs to see him. She imagines Arjun. She becomes upset when she realizes that it's her imagination. She says that she misses Arjun a lot. Manorama hears this. There Arjun also imagines Rajjo and smiles. He misses her.
The episode ends.
Precap: Here Arjun's haldi ceremony is going on while Rajjo and Vicky are having their haldi ceremony. Arjun's friends misbehave with Rajjo. Rajjo pushes them down. Arjun angrily gets up from his wedding mandap.
The episode starts with Manorama asking Rajjo to build her life with Vicky. She then tells that his and Rajjo's universes are different, so asks him to forget Rajjo. She says that if their meeting is a coincidence, their separation is their destiny. Manorama asks Rajjo to come and sits in the car. Rajjo and Arjun look at each other, recalling their all their moments together and feel emotional. Zalima Kyu hai dooriyaan plays in the BG. They both get into their respective cars, looking at each other.
A police officer sees Vicky driving off with a girl. He is suspicious of Vicky and clicks his photo. Kalindi is with Kavita. She vents out her anger about Madhu insulting Kavita in front of everyone. She also complains about Madhu loving Arjun more than Chirag. Kalindi cries and says that she tried to keep her relationship with Chirag alive, but couldn't. Kavita suggests Kalindi have a second child with Chirag to remove the distance between her and Chirag. Kalindi refuses. She says that she doesn't love him anymore. Kavita says that Kalindi has to maintain the relationship for the society. Rocky arrives there and stops at the doorstep, seeing Kavita with Kalindi. Kalindi sees Rocky. Kavita asks Kalindi to choose between herself and her family. Kavita leaves. Rocky hides.
Vicky brings Rajjo and Manorama to a cottage. He says to Rajjo that this is a nice place and he used to hang out there with his friends. Meanwhile, Arjun returns home. Madhu confronts Arjun about going after Rajjo. She hands him the nuptial chain they made for Urvashi. She asks him to tie it around Rajjo's neck and settle with her in America, but asks to perform her last rites before that. Arjun says that Madhu is a misconception. Madhu questions Arjun about his feelings for Rajjo.
Click to read