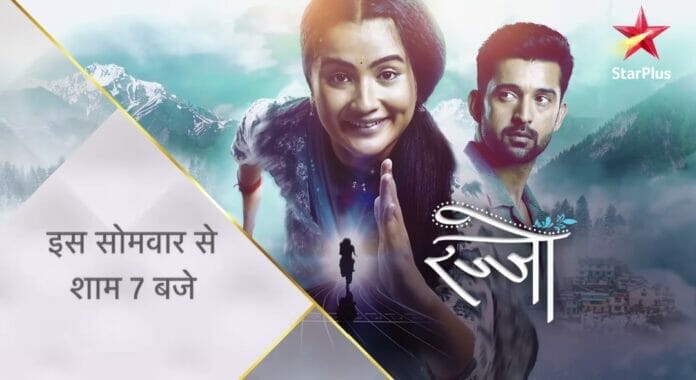 Rajjo 28th October 2022 Written Update on TellyExpress.com
The episode starts with the moneylenders demanding Urvashi to return their money and threatening to tell her truth to Madhu. Urvashi threatens them back by saying that they will also end up behind bars for acting like her uncles and they won't get their money. She says that she will get the gold Kalash at any cost for them and asks them to be patient till that. Pushkar asks Urvashi to find Rajjo to execute his plan. Urvashi asks Pushkar if he has a plan B. Pushkar says that one plan is enough and asks Urvashi to get Rajjo near the poll.
Arjun is changing his clothes. Rajjo arrives there to place Arjun's punching bag in his room. Rajjo turns her face to the other side, seeing Arjun's bare chest. Arjun scolds Rajjo for entering his room while he is changing clothes. The latter defends herself by saying that her family asked her to place it there. She drags the punching inside with a lot of difficulty. Arjun drags Rajjo and pins her to the wall. Rajjo asks what she did now. Arjun says that she will be tired after doing work. He asks Rajjo to drink the water. He forces her to drink it. Rajjo throws the glass away. Arjun says that he caught her lie. He says that she's fasting for his long life despite being his fake wife. He asks if she wants him to be grateful to her for that and forget her betrayal. He urges Rajjo to drink the water. Rajjo refuses.
Swara is feeding Sia. Mukund and Jhilmil send Sia to play. Jhilmil says to Swara that she should become this house's number one daughter-in-law. She asks Swara to become as cunning as Kalindi and takes advantage of Rajjo and Urvashi drama to make her place in the house. Mukund also asks Swara to do as Jhilmil says. Swara nods OK. They leave. Karthik comes to Swara and says to Swara that she doesn't need to change herself by listening to them. He asks her to be herself and becomes a daughter-in-law who keeps the family together.
Arjun accuses Rajjo of doing drama so that his family feels pity for her and forgets her misdeeds. Rajjo admits that she lost and is about to leave. Arjun holds Rajjo's hand. He says that she accepted that she can't win over him. He asks her to get out. Rajjo asks if she really wants her to leave the house. Arjun stays quiet. Rajjo says that she admitted that she can't make him understand. She says that she didn't give up on him. She can't be defeated in that.
Arjun pushes Rajjo to the side so that she doesn't walk over the shattered glass piece. Rajjo thanks Arjun mockingly. Arjun says that she can do whatever drama she wants, but he won't feed her water to break his fast. Rajjo says that she left in the Goddess' hands. Rajjo says that Arjun should understand Goddess' will when her fast is completed. She adds that she doesn't care even if he doesn't understand.
Rajjo is about to leave, taking the charger. She stumbles and falls over Arjun. They both land in the cupboard and they get stuck inside. Urvashi comes there looking for Arjun. The latter asks Rajjo to be quiet. But Rajjo screams. Urvashi opens the cupboard and is shocked to find Rajjo and Arjun inside. Urvashi accuses Rajjo of trapping Arjun inside the cupboard. Rajjo mocks Urvashi and says that she can't separate her from Arjun. In the meantime, Arjun changes his clothes. He takes Urvashi from there.
The Thakurs are gathered on the terrace waiting to see the moon to break the Karwa Chauth fast. Madhu asks Rajjo to give everyone the puja plate. Rajjo obliges. Lastly, Rajjo gives Arjun's puja plate to Urvashi. Urvashi thinks that she will win. Rajjo thinks that she can't win. Urvashi says that Rajjo. Urvashi says that a strong bad smell is coming from Rajjo. She sprays the perfume over Rajjo despite Arjun asking her to stop.
Madhu notifies that Urvashi's veil on the puja plate has caught fire. Urvashi is shocked to see it and throws it in the air. Rajjo catches it and sees the moon through the veil and then Arjun's face. Madhu is shocked to see this. Karthik asks someone to get water to douse the fire. Arjun puts out the fire with his kerchief. Rajjo thanks God for helping her to complete her Karwa Chauth rituals.
The episode ends.
Precap: . Madhu sends Rajjo to the storeroom on the terrace to bring some plates. Rajjo gets locked inside the storeroom. She sees the pillar falling and catching fire. Arjun is stuck in the fire. Rajjo shouts for help to save Arjun.
Click to read