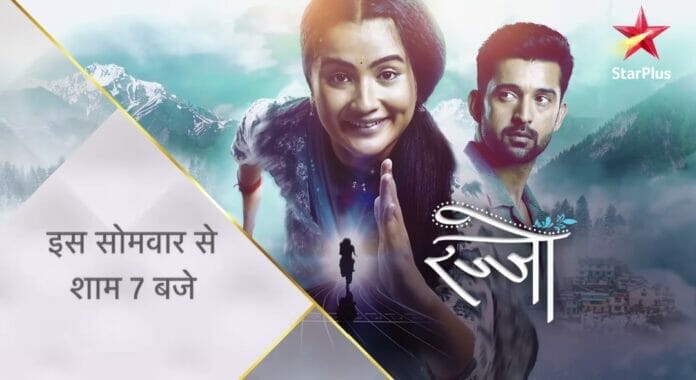 Rajjo 2nd November 2022 Written Update on TellyExpress.com
The episode starts with Arjun looking at Rajjo and deciding not to change his opinion for anyone. Sia goes to Rajjo. She says that their dog, Sheru, scared Urvashi's uncles. Rajjo says that Sheru scared her too in the beginning. Sia says that he doesn't get angry if they give him a ball. Swara arrives there. She packs a tiffin box and asks Rajjo to take it daily while going to the hospital. She says that it's for her Kaka. She says that Arjun told her about her mom's health conditions and he asked her to pack tiffin for her kaka. She assures Rajjo that her mom will be fine soon.
Rajjo becomes emotional and hugs her. Swara asks Rajjo to take the tiffin box, hiding from the family. She gives a tulsi necklace to Rajjo to keep near her mother. Rajjo thanks God for everything going well from the morning.
Urvashi's fake uncles get ready to leave. They take their leave to the Thakurs. Arjun wants to put the suitcase in the car. But they refuse, saying that they don't want to make their son-in-law do their work. Jhilmil asks Rajjo to keep the suitcase in the car. They refuse again, saying that there's an expensive thing in the suitcase which confuses the Thakurs. They say that the sweet dishes they give are inside the suitcase. Kalindi takes Rajjo and says that she saw Urvashi getting the gold Kalash from the terrace, but she can't find it now despite searching throughout the whole house.
Rajjo says that last night, she saw Urvashi trying to give that kalash to her fake uncles, but she dropped it when she bumped into her to save Arjun. Rajjo says that she has stolen it later. Kalindi notifies that Urvashi's fake uncles don't let anyone touch the suitcase as they have hidden precious things inside. Rajjo and Kalindi realize that the gold Kalash is in that box. They wonder how to expose them. Rajjo smiles, getting an idea. She leaves.
The moneylenders are about to get into the car. Rajjo throws a ball towards them and sends Sheru to catch it. The moneylenders get scared at seeing Sheru and drop the suitcase. Arjun picks up the suitcase. The gold kalash falls from the suitcase which shocks the Thakurs. Rajjo smiles and thinks that Urvashi and her fake uncles will get exposed now. Arjun and Maddhu question Urvashi about her uncles stealing the kalash. Urvashi sheds crocodile tears and lies that she doesn't know that they would do like that. She scolds her uncles and apologizes to Arjun and Madhu. She asks them to give them the punishment they want. She says that she doesn't know where the kalash has gone.
Rajjo says that Urvashi is lying. She says that she saw Urvashi taking the kalash from the terrace and asks how it reached her uncle's bag from her hands. Arjun asks Urvashi if she bought it from the terrace. Urvashi admits it. Madhu asks why she didn't give it to her. Urvashi lies that a lizard fell over her head, so she left the kalash there and went to pure herself with Ganga water. She says that the kalash was missing when she came back. Rajjo asks Urvashi why she didn't ask about where the kalash had gone to the family members. Chirag agrees with Rajjo and asks the same Urvashi. The latter says that she thought someone from the family would place it in the puja room. She blames Rajjo for stealing the kalash and putting it in her uncles' suitcase to frame them.
Arjun asks Urvashi not to accuse Rajjo. He says that the kalash is priceless and if Rajjo stole it, they would find it in her bag. Urvashi says that Rajjo wants to throw her out of the house, so she's framing her uncles. Chirag says that if her uncles were really innocent, they would stand quietly. Arjun and Pratap agree with Chirag and ask Urvashi not to blame Rajjo. Urvashi put up an emotional act. She asks Arjun to call the police to get her uncles arrested, but not to blame her for their actions. She says that she didn't doubt Arjun when Rajjo claimed that she was Arjun's wife. Rajjo says that both are different matters. Urvashi asks Rajjo who she is to interfere in their family matters. She threatens to leave the house if Madhu doesn't stop her.
Madhu shuts Rajjo up. She says to Arjun that Urvashi is innocent, so she's asking to get her uncles arrested for her misdeed. But she didn't want the police to come to their house. Chirag sends the uncles away. Urvashi hugs Madhu, faking tears. She thanks Urvashi. Madhu assures Urvashi that no one blames her as she is this house's soon-to-be daughter-in-law.
The episode ends.
Precap: Arjun angrily punches the punching bag saying that he won't let Rajjo win the race. Rajjo stops him. Arjun says that he doesn't want to talk to double-faced people. Urvashi and Arjun say to Rajjo that they will win the race and any plans of Rajjo won't work.
Click to read