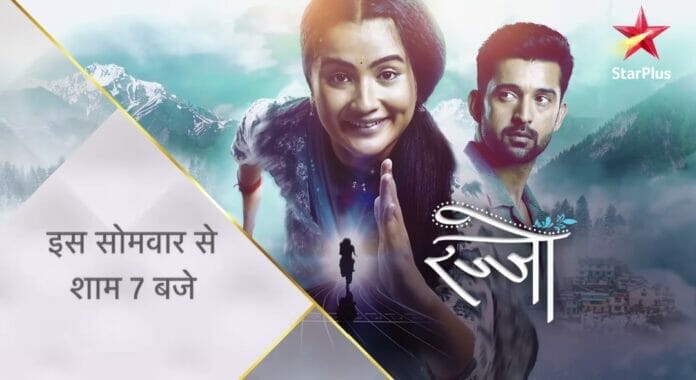 Rajjo 3rd September 2022 Written Update on TellyExpress.com
The episode starts with Rajjo folding her hands in front of Arjun's dadaji requesting him to let her go. She touches his feet and runs out of the house. Arjun is watching this. Arjun tells his family that he saw a cockroach. He makes the excuse of an important meeting and leaves. Madhu gets suspicious of Arjun's weird behavior.
On the way in the car, Arjun wonders why Dadaji didn't react when he saw Rajjo. Rajjo asks where he is taking her. Arjun says that he is taking her to a hotel. After reaching the hotel, Rajjo is amazed to see the hotel room. Arjun says to Rajjo that he can't keep her in his room. Rajjo swears that she also didn't want to stay in his room. Arjun instructs Rajjo to keep the room door closed and open it only for him when he will call her out. He then shows the phone and tells which button to press to order any food. Rajjo is excited to learn that she will get any food she wants. She wishes that her mom could also be here, as sometimes they had to sleep only drinking water. She assures him that she won't waste his money. Arjun says to her to not worry about money and stay there comfortably. Rajjo says that she can't till she finds her mom. She asks if he will find her. Arjun nods yes and asks if she trusts him. Rajjo says that she can trust him blindly. Arjun says to her to never trust anyone blindly and asks her to think. Arjun is about to leave. He notices that the hotel staff is continuously staring at Rajjo. He gets angry. He scolds the staff for looking at Rajjo with bad intention. He takes Rajjo from there. He thinks that he can't leave her here in danger to save her from the family.
Arjun is angrily driving the car. Rajjo is scared to ask him where he is taking her. Arjun comments about girls not being able to drive properly. Rajjo tells Arjun how strong women are. She says that even her mom has been told that she can ride a boat, but she is the only woman in her village who rides the boat and catches fishes. She says to Arjun to not taunt any woman. Arjun gets annoyed with her talks and asks her to be quiet. Rajjo thinks that Arjun is a nice person, but he is arrogant. She wonders how Urvashi will bear him. Meanwhile Urvashi comes to Arjun's room and is shocked to find the room in disorder. She goes into the washroom. She is shocked to see a girl's cloth there and calls out to Madhu.
Arjun and Rajjo reach home. Arjun asks Rajjo to enter his room through the balcony, but asks her to climb it carefully. Rajjo says that he is the only person who cares for her after her mother. She says that her destiny is linked to Arjun and his room, so that she can't leave it despite trying. She reminds him that they have to apologize to Dadaji. Rajjo climbs the balcony while Arjun enters the house from the main door. He is surprised not to find anyone in the hall. He goes upstairs and finds his family in his room. Madhu shows Arjun Rajjo's cloth and asks whose dress this is. Arjun looks shocked. Rajjo is seeing this hiding in the balcony. Madhu demands Arjun to tell the truth. Rajjo prays to God to save Arjun. Just then Dadaji comes there and says that the cloth is the proof that Arjun helped someone He says that Arjun helped many people during the flood and anyone of their cloth might remained in his car. Madhu and the family apologize to Arjun for misunderstanding him and leave.
Arjun hugs Dadaji and thanks him for saving him. He says that he didn't intentionally bring Rajjo here and hide her. Just then Rajjo comes inside and says that she came here hiding in Arjun's tempo. Dadaji says that he trusts Arjun and he can never lie. Arjun says that people will misunderstand if they see a girl hiding in his room. He requests him to listen him to him to understand the circumstances.
Kalindi says to Madhu that Arjun has changed and something is fishy. Madhu thinks that Kalindi is right and thinks of finding the truth. Meanwhile Arjun tells Dadaji everything about Rajjo. He assures Dadaji that it's only a matter of one or two days. Dadaji says that he is supporting him as he is helping a girl, but it's not right for a girl to stay in a man's room without any relation. Arjun agrees with Dadaji. Dadaji asks to sort out this matter as soon as possible and leaves. Rajjo apologizes to Arjun for causing trouble to Arjun and his family. She says that she always disobeyed her mother and used to run. She asks if he never lied to his mother. Arjun thinks of hiding his plan of returning to America from his mom.
Arjun meets Urvashi. The latter says that Arjun is hiding from his mother of moving to America with his parents after settling a business for Chirag. She asks if he isn't hiding something from her too. Arjun thinks about Rajjo.
The episode ends.
Precap: Arjun brings Rajjo to the rescue center to get update about Manorama. Pushkar and his wife arrive there. Pushkar is surrounded by reporters. Manorama comes out. Arjun and Rajjo also come there.
Click to read