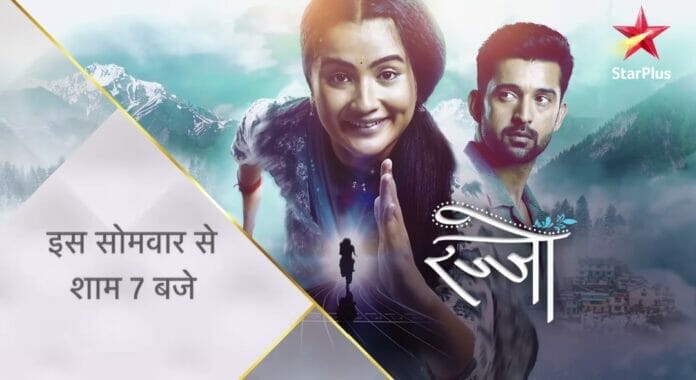 Rajjo 4th January 2023 Written Update on TellyExpress.com
The episode starts with Arjun expressing his wish to always be a friend with Rajjo. Rajjo says that she also wants that. Arjun says that in that case they should share food a d secrets and should never lie and trust each other He adds that they can ask any questions to each other and the other shouldn't get annoyed. Rajjo and Arjun ask about each other's likes and are surprised that they know each other favorite things.
Arjun and Rajjo ask each other the most special moment of their life. Rajjo says that the day she won shoes for her mom is very special. Arjun asks if that day is special because she met him first time that day. Rajjo spontaneously say yes, then denies it. Arjun says that the day he arrived to the village and saved Rajjo is the special day of his life. Rajjo says that she's happy that she's included in his special day. Then they discuss favorite film. Sawaar loon play in the BG. Elsewhere, Rocky is on call with Madhu. He says ok. After hanging the call, he says that he is coming Kalindi.
The next morning, Arjun and Rajjo wake up. They feel awkward realizing that they were sleeping hugging each other. They come down stairs and are surprised to see Madhu and Jhilmil there. Just then, Rocky arrives there and greets them. Rajjo is shocked to see Rocky. Madhu asks Rocky to place the breakfast on the breakfast table. Kalindi arrives and gets scared on seeing Rocky.
Rajjo notices this. Jhilmil asks Rocky to get the other tiffin boxes from the car. Rocky obliges. Madhu asks Rajjo about the last night. Just then Chirag arrives and he gets angry when he learns Chirag has also come. Arjun excuses himself to Madhu on the pretext to get Niharika. Chirag looks towards Rajjo before going out. Madhu takes Rajjo apart and enquires about how was the last night. Rajjo says that the last was very special for him and her as they were awake the whole day despite being tired. Madhu gets happy thinking that they consummate their marriage. She gets disappointed when Rajjo says that they were talking the whole night.
Chirag goes to Rocky and warns him to stay away from his house and Kalindi. Rocky claims that Kalindi wants to stay with him, not with Chirag. The latter hits him and says that love can't be forced. He respects Kalindi's choice of going away from him and now her choise of returning to him and threatens to kill Rocky if he approaches her. He warns him not to tell about their to the family.
Arjun and Jhilmil sit on to have breakfast. Jhilmil asks where Rocky is. Kalindi is scared about Rocky's presence. Rajjo holds her hand to show her support. Arjun wonders where Rocky is. Just then Chirag arrives. Rocky asks about Rocky. Chirag says that Naman has planned a cricket match, so they should leave now. Jhilmil agrees as it's Rajjo and Arjun's honeymoon so they all should leave. Madhu asks about Rocky. Chirag asks Madhu to tell him hereafter if she needs anything. Arjun says that they will also leave. Rajjo agrees and is about to say it's because of Rocky, but Kalindi says that Rajjo misses her mom. They all decide to leave. Manorama is upset that her plan is flopped, but she thinks that she can force them after reaching Thakurs..
At Thakur's house, everyone gets the jersey to play the cricket. Madhu refuses to play cricket and wants to just watch them playing. Kalindi decides ti order food online. Chirag notices Rajjo worried and goes to talk to her Rajjo asks Chirag how he made Rocky leave. Chirag says that he hit him and chased him. Rajjo is shocked and asks what if Rocky tries to do wrong with Kalindi. She says that Rocky is his relative, so he will keep coming to this house. Chirag says that he made it clear not to come here and move on forgetting everything. He says that he will hit him again if he doesn't understand it. Rajjo is scared that Rocky cab think of taking revenge on them. Chirag realises about it. He says that he assured Kalindi and fixed security devise at the entrance including CCTV cameras and police siren.
He says that they watch the footage in their phone. They will know if Rocky arrives. Rajjo says that the family will let him in if Rocky arrives. Chirag says that he told the security guards not to let Rocky in. He asks Rajjo to be careful too. Chirag says that he doesn't want Rocky arrives and defame Kalindi. Rajjo assures Chirag not to let this happen. She advises Chirag to find any permanent solution for Rocky. Chirag agrees. Chirag asks Rajjo not to let anyone enter the house before checking in CCTV footage. Rajjo agrees.
Later, Rajjo checks on the phone CCTV footage when door bell rings. She sees delivery boy has come with food. She goes to open it. She gets distracted for a moment when Kalindi asks about where Sia is and found her. In the meantime, Rocky attacks the food delivery guy. Rajjo opens the door and finds the food parcels left on the floor. She wonders the delivery guy went and bends to take them. Rocky enters the house.
The episode ends.
Precap: Arjun and Rajjo have a romantic moment. The landline phone rings. Arjun answers it. He is shocked to hear Guruma saying about the getting closer to Rajjo is the only solution to save Arjun from the life threat present in his horoscope. Arjun says to Rajjo that there is nothing between them and they're not made for each other. Rajjo is shocked to hear this.
Click to read