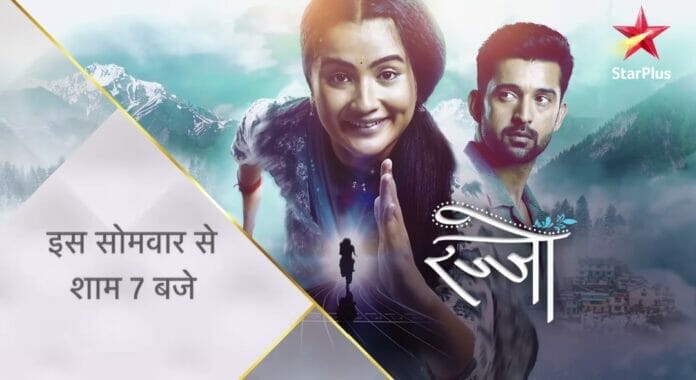 Rajjo 5th November 2022 Written Update on TellyExpress.com
The episode starts with Rajjo walking after and then in front of Arjun. The latter gets irritated and asks what she's doing. Rajjo teases him. Someone asks Arjun to get ready for the competition. Rajjo mocks Arjun, saying that he has to get ready to lose. Kalindi goes to convince Rocky, who is angrily playing basketball after seeing Kalindi in Chirag's arms. Rocky argues with Kalindi and asks her to prove to him that he is more special than Chirag for her. He throws the ball to her and walks away. Chirag comes there. Chirag says that he used to be a basketball champion in his college days, but he always lost to her. Kalindi grows anxious, feeling that something wrong is going to happen.
Urvashi tells the Thakurs that Rajjo is participating in their locality's running race as Rajjo Arjun Singh Thakur. She accuses Rajjo of intentionally doing this to expose her marriage with Arjun to the world and defames the Thakurs. The Thakurs insult Rajjo. Chirag says that they're making a small matter a big issue. He supports Rajjo participating in the race. Arjun reminds Chirag that the competition rule is that only one person from the family can take part in the race. He adds that he wants to participate in the race from this family. Madhu says that Arjun should take part in the race and asks Arjun to remove Rajjo's name from the competition. She insults Rajjo saying that her name should be registered only for the defaming game. Arjun agrees to remove her name from the competition as she's not a part of their family or any family. Rajjo stands in front of Arjun. She says that he doesn't need to cut her name as she will cut away his name from her name. She gives an apt reply to the Thakurs for insulting her just to prevent her from participating in the race. She questions Madhu about using cheap words for her despite being older than her. She claps for Arjun, who is silently listening to that. She admits that she's a maid and feels proud of it since maids make rich people's lives easy by doing all their work.
Rajjo states that they also get money for selling fertilizer from their clients, so they are also workers, but no one should dare to call them so, since only they have that right. Rajjo says to Arjun that he did a favor by saying that she's not his family as she doesn't want to become like them. She says that she belongs to the labors who work hard day and night. She says that this competition is now between rich and poor. Rajjo rings the bell and announces that she will participate as Rajjo Manorama Dhaki, the maid of this house, in the race and asks Arjun to be ready to get defeated by a maid which angers Arjun. She says that she will participate in the race on behalf of the laborers whom they insult. She prays to God and goes to register her name in the competition.
Rajjo registers in the race as Rajjo Manorama Dhaki. Arjun also registers his name. The man says that Rajjo and Arjun stay in the same house, so that they both can't participate in the race. He asks them to talk and decide who is going to take part in the race. Rajjo goes after Arjun, trying to talk to Arjun. The latter shuts the washroom door on her face. Rajjo pretends to get hurt to make Arjun open the door. She admits the same when Arjun opens the door. Arjun says that he isn't the same Arjun, he has changed. He says that he won't melt. He will win the race at any cost. Rajjo challenges Arjun to do a race with her to decide who will participate in the Diwali race from this house. Arjun agrees to Rajjo's deal. Arjun says that he is praying to get rid of Rajjo and goes back to Urvashi.
The episode ends.
Precap: Arjun angrily punches the punching bag saying that he won't let Rajjo win the race. Rajjo stops him. Arjun says that he doesn't want to talk to double-faced people. Urvashi and Arjun say to Rajjo that they will win the race and any plans of Rajjo won't work.
Click to read