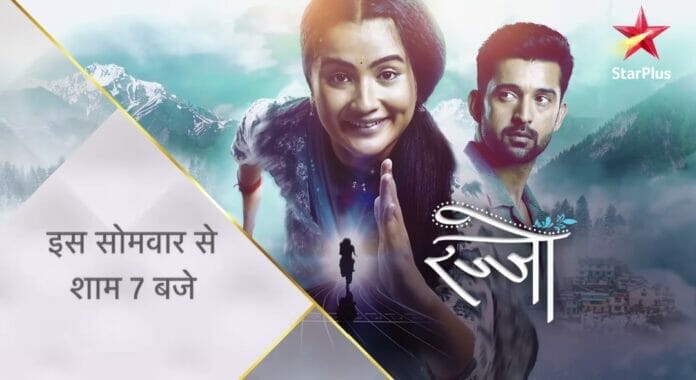 Rajjo 7th January 2023 Written Update on TellyExpress.com
The episode starts with Rajjo and Arjun fighting. He says that their relationship is hollow as there is no trust. Rajjo is hurt by Arjun's words. She advises Arjun to look at the people in front of him and learn to read their faces and listen to their hearts. She leaves, taking back the coffee she brought for him. Pushkar arrives at Thakurs' mansion. He apologizes to Niharika for shouting at her. Niharika says that she forgot about it and says that she's happy that he agreed to help Rajjo.
Pushkar admits that Rajjo is talented and he failed to recognize it. He says that he will rectify his mistake and shows the box and says that he got special supplements for Rajjo. He says that Rajjo will get energized after eating it and will leave everyone behind her on the track. Niharika says except her and hugs him. Manorama overhears this. She gets suspicious as Pushkar can never think good for Rajjo.
Arjun and Rajjo come downstairs murmuring. Niharika asks Rajjo why she hasn't gotten ready for the practice yet. She asks Arjun and Rajjo if they are fine. They say yes. Niharika asks Rajjo to get ready fast. Manorama arrives and advises Rajjo and Arjun to spend more time alone. Arjun refuses, stating that Rajjo has more important work than him. Manorama says to Rajjo that she's this house's daughter-in-law now, so, her first priority should be her husband and his family. She says that if she practices the whole day, she will feel exhausted in the night. Manorama says that she means how they will have a talk. Rajjo says that she feels more energetic in the night and will do the work fast. Rajjo says that she takes care of her diet too, as Niharika told me that fitness is important to become a professional athlete.
Just then, Pushkar arrives there and says that hereafter, he will take care of everything related to Rajjo, including her diet. He gives the supplements. Niharika says that all the academy students take it and it's a special supplement and everyone wants to steal its formula, but it's top secret. Manorama takes the supplement and checks it. She says that she's also an athlete. She asks why its smell is weird. Pushkar takes back the supplement and says that it contains many herbs and he doesn't remember all their names. He says that, nowadays, competition is heavy and one can't win a race just by following a normal diet. He asks Rajjo not to eat it if her mom doesn't want it. But Rajjo says that she wants to have it and tries to convince Manorama for the same.
Niharika assures Manorama that there won't be any side effects. She tells how her mom used to make laddu using this supplement. Rajjo wants to make laddu too. Manorama says that she will do the laddus. Arjun says everyone should do their work by themselves and shouldn't ask their mom to do it. Pushkar also agrees with Arjun. Manorama also agrees and asks Rajjo to cook for Arjun too. Arjun refuses, saying that she made a spicy dish last time. Manorama asks Arjun to tell Rajjo about his diet.
Rajjo gets ready for practice. She notices Arjun searching for his file. She recalls his words and doesn't help him. She puts vermilion on her hairline. Arjun sees this and recalls Rajjo's words. Rajjo tells him where the file is when he isn't able to find it. Rajjo goes to make protein laddu. She says that she will make Arjun's shake too. Arjun refuses and says that he will do his work by himself. He will talk to Manorama. Rajjo asks Arjun why he acts rude when she tries to do something good. He says that he doesn't want to force her to make food for me or to keep this relationship. Manorama calls out to Rajjo. Rajjo is about to leave. She slips and is about to fall back. Arjun catches her.
Rajjo gets ready to leave for practice and says that she will return by evening. Arjun asks her to be careful while prancing and asks her to eat and drink on time. Rajjo asks Arjun not to worry about her. Arjun says that he is her husband, so he will worry about her till his last breath. Rajjo reminds Arjun that he married her first time to save her from Vicky and the second time for his mom's happiness. So, she asks him to stop showing his fake concern for her. She will get hurt if she gets the habit of it. She says that she's fine alone and leaves.
Rajjo and Niharika return home after practice. Niharika asks Rajjo to rest after heavy practice. Pushkar asks Rajjo to have food. Manorama wonders why Pushkar cares about Rajjo all of a sudden. Manorama asks Rajjo to go to Arjun. She says that husbands are impatient at the beginning of a marriage. Niharika reminds Rajjo about the supplement. Rajjo asks Niharika to help her to make laddu of supplements. Niharika says that Rajjo should give half laddu. Rajjo agrees. Pushkar says no. He says that Rajjo and Niharika should have different quantities of supplements. He says, moreover, it's specially made for Rajjo. Niharika explains Rajjo how to make laddu.
The episode ends.
Precap: Rajjo bakes the laddu in the microwave. She gets shocked fire in the microwave. Arjun rushes to save Rajjo.
Click to read