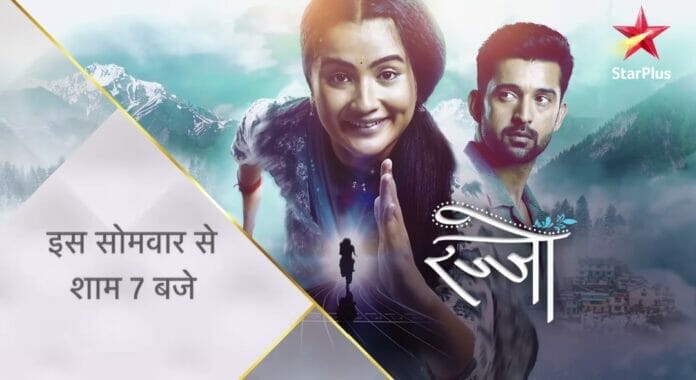 Rajjo 8th January 2023 Written Update on TellyExpress.com
The episode starts with Arjun being disturbed, remembering Rajjo's words. He goes downstairs. Meanwhile, Rajjo makes laddu using the supplement given by Pushkar and puts it inside the microwave. Arjun comes down stairs lamenting. On the other hand, Manorama wonders why Pushkar is acting nice with Rajjo all of a sudden and grows suspicious. Rajjo is shocked when the explosive laddu starts to burn and the smoke comes out of the microwave. Rajjo starts to cough badly. Arjun and Manorama see the smoke and rush to the kitchen. Arjun rushes to Rajjo and saves her just before the microwave explodes.
Manorama is shocked to see this. The Thakurs and Niharika arrive there hearing a blasting sound. They are worried about Arjun and Rajjo. Arjun and Rajjo enquire if the other is fine. Madhu asks how the blast happened. Rajjo says that she doesn't. She says that she was baking the ladd with the supplement. Manorama says that it's the same supplement that Pushkar gave Rajjo. Manorama understands that Pushkar intentionally did this. She scolds Pushkar. Niharika says that such an incident never happened to her. Arjun asks to see the supplement to check the expiry date.
Manorama accuses Pushkar of spiking the supplement. Pushkar shuts Manorama down and blames Rajjo. He says that Rajjo might have mistakenly put a spoon inside the microwave which caused the blast. He defends himself by saying that both his daughters are in this house and he would never have risked their lives by giving Rajjo explosive powder. Rajjo says to Arjun that she didn't put a spoon inside the microwave and asks him to check.
Pushkar diverts Rajjo into a talk by asking Rajjo to take care of herself as she's a future athlete. He says that she mustn't know how to use a microwave as she's from the village and should've took someone's help. Madhu asks Arjun to take Rajjo to their room so that she can rest. Arjun obliges. Arjun lifts Rajjo in his arms and takes her from there.
Arjun treats Rajjo's wounds. Ek Duje Ke Vaaste plays in the BG. Rajjo notices that Arjun is also injured. She wants to treat his wound, but Arjun says that he will do it by himself. He struggles to tie the bandage around his hand. Rajjo insists on tying his bandage to return his favor. Arjun lets her do it. Rajjo asks Arjun why he came closer to save her and injured himself instead of shouting from far to alert her. Rajjo notices that Arjun has a wound on his neck too. She scolds Arjun and treats his wound. Rajjo asks what she would do if anything happened to him. Arjun taunts Rajjo about always hurting him. He walks away. Madhu hears this standing outside the room.
Madhu wonders whether Pushkar really tried to kill Rajjo despite knowing that Rajjo is very important to save Arjun's life. On the other hand, Manorama wonders whether what happened with Rajjo is just an accident or Pushkar's plotting. Madhu decides to meet Guruma.
Madhu meets Guruma and tells her about not being able to bring Rajjo and Arjun closer despite her attempts. She's feeling nervous about it. Guruma says that the threat to Arjun's life is getting stronger, so she asks Madhu to bring Rajjo and Arjun closer as soon as possible. She blesses Madhu that she will be successful.
Rajjo and Arjun find Madhu and Jhilmil packing bags and ask where they are going. Just then, Chirag brings Kalindi. Rajjo goes to Kalindi by slightly pushing Arjun. Arjun asks Madhu again where they're going. Madhu says that they're going to the temple to ward off bad eyes from the family as bad incidents continuously take place in the house. Arjun and Rajjo ask why they didn't inform them about it earlier. They would have gotten ready. Arjun and Rajjo argue, accusing each other of taking too much time to get ready. Madhu asks them to stay in the house as Rajjo, who practices hard, needs rest. Pushkar thinks that Madhu is overreacting and could get caught. Arjun decides to go along with the family, leaving Rajjo at home. Madhu takes Arjun apart. She says that they can't leave their newly arrived daughter-in-law in the house alone. She asks Arjun to grow closer to Rajjo.
Arjun feels shy and asks her not to talk to him about this. Rajjo tries to eavesdrop on what they're talking about. Madhu convinces Rajjo to stay at home with Rajjo. Manorama also decides to accompany the Thakurs to the temple. Madhu thinks that she has forgotten about her and she will not leave Rajjo alone if she stays there. Madhu agrees. They all leave. Arjun and Rajjo think in their minds about staying away from each other.
The episode ends.
Precap: Arjun learns that he needs to grow closer to Rajjo to escape from the death threat. He says to Rajjo that there is nothing between them and they're not made for each other, which hurts Rajjo.
Click to read