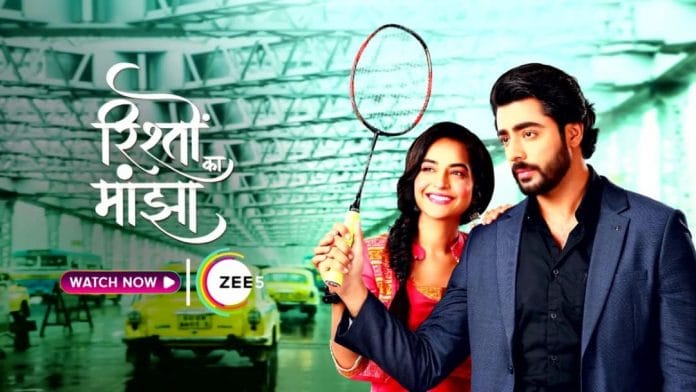 Rishton Ka Manjha 21st March 2022 Written Update on TellyExpress.com
The episode starts with Arjun talking to Abantika. She says she can't play the match with him which angers him. Arjun says sometimes ago she was giving ideas how to play the match using proper techniques then why is she refusing suddenly. Abantika disconnects the call.
Madhuri and Dipika both try to make Diya understand that she herself gave courage to Arjun then she should not feel demotivated like that. She can play the match with Arjun and she has enough confidence. Madhuri says Diya should not forget that she got married to Arjun because of badminton and she shouldn't hurt him like that. Diya remains adamant thinking she can't lose her brother so can't tell them the truth too. She wants to see Arjun wining the match but she is helpless. Madhuri says if Diya will hurt Arjun knowingly then she won't forgive her for that.
Kavita checks Ajit's phone and he says why are they doubting him. Karan tells Ajit that nothing should happen to Bablu no matter whatever he does. He promised Diya already. Ajit says he should not allow Diya to meet Bablu as it's risky. Karan says Ajit will never understand the reason behind it. Doctor might bring trouble so allowing Diya is safest option and she will believe in real that Bablu is kidnapped so she will fulfil Karan's demand too. Karan tells Ajit not to take any step without asking him. He gives him more money.
Diya goes to Arjun's room and Niharika feels they both are double crossing Karan maybe. She overhears them and Diya tries to convince Arjun to not play the tournament but he scolds her and cuts ties with her saying she doesn't need to worry for his career. She says they can take a break to gather the confidence but Arjun denies and throws her out of the room. Niharika hides seeing her. She goes to inform Karan that Diya failed to convince Arjun.
Karan gets drunk and breaks a bottle. Kavita comes to him and he shares that Badminton Academy doesn't respect him at all. They rejected his application of disqualifying Arjun from the match. He gets restless and Kavita tries to calm him. He says he won't spare Arjun at any cost. Someone knocks on the door and Kavita tells him to not open the door but he opens. He finds Arjun who confronts him saying why he told Abantika not to play.
Arjun says no power can stop him from playing the match. Karan mocks him and says he didn't play for five years and within ten days he can't win the match. Arjun says he will and if Karan wants to make him lose then he should try to defeat him at the badminton court. He challenges Karan saying the latter is coward and afraid as he won over Karan many times.
Arjun mocks Karan and leaves. Karan tells Kavita that they will accept the challenge and will defeat Arjun together being a team. If Diya can't stop Arjun then they will humiliate him at the court and will make him lose. Kavita says but Karan didn't practice for five years too then how will he win the match. Karan says he is sure he will win the match over Arjun.
Episode ends