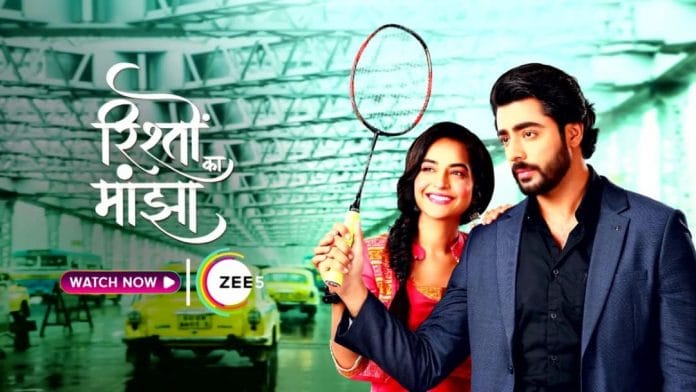 Rishton Ka Manjha 26th March 2022 Written Update on TellyExpress.com
The episode starts with Diya stopping Madhuri from slapping Niharika. She says she believes Niharika has changed. Luv says he knows Niharika and she can go to any extent due to her greed. Diya says Niharika belongs to their family they should trust her. Madhuri says she is not going to trust Niharika anymore as she is just doing drama. She says they should call the police and get her arrested. Diya says she won't call the police. Madhuri says Arjun should make Diya understand but in vain. Madhuri tells Diya not to trust Niharika as the chemical might ruin her face.
Niharika talks to Karan and asks her for money and he says he will give her reward for sure. But in other style. He tells Kavita that he will give surprise to Niharika. Arjun can't play the match due to Diya's accident. Diya feels hurt and Madhuri says because of that Karan everything is happening. He should get punished immediately. Diya says she is worried that Arjun has to let go off his dreams. Arjun says right now he is worried about her only. Madhuri says she can't digest the fact that due to Karan he can't play the match and Diya is in this state. Arjun says life is important and then they will have time to fulfil their dream but now Diya should take care of her health only.
Diya goes to Kush and tells him to not look clean on this colourful festival. He should apply color on Niharika too. He says he will never trust her again and he saw her drama many times but none of them can see that. He leaves saying he will find out why Niharika is doing it. Diya then goes to Niharika and colors her saying she feels the latter has changed and won't betray them again. Niharika smiles and there Arjun and Diya have fun together and throw colors at each other. Niharika mixes the chemical in the water and when Diya puts her hand in that bucket she screams. Arjun brings Diya home from the clinic. He says her hand got burnt due to a harmful chemical.
There was a chemical in the bucket maybe. Madhuri asks but who can do that as the colors were prepared by Banno. She questions Banno and the latter says she didn't do anything. Madhuri then suspects Niharika and says Kush was right about her that she can never change. Niharika stammers and says why would she do something like this. Madhuri asks then why is she nervous? She says she made a mistake by allowing her in the house but not anymore. Niharika looks scared.
Episode ends
Also See