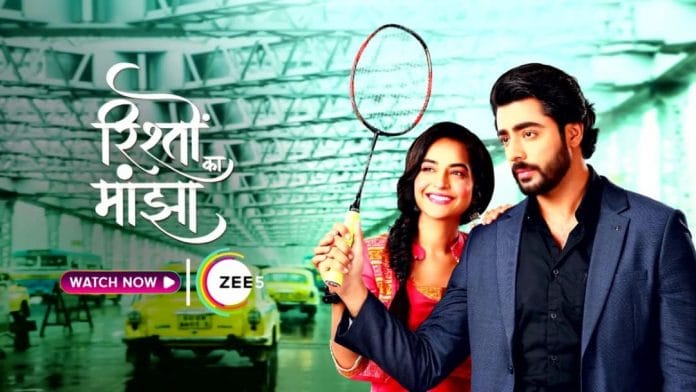 Rishton Ka Manjha 26th March 2022 Written Update on TellyExpress.com
The episode starts with Arjun telling Madhuri that he wants visit somewhere with Diya far from the badminton world as he finally realised they have their lives and badminton can't be seen everything for them. Madhuri says is he serious? Because his dream is not getting fulfilled and being his mother she can't do anything but cry. Arjun says Diya put a lot of efforts for his come back but it failed after all this.
Today is the tournament but they cant play it. Maybe that's in their destiny and it can't be changed. So he has decided to spend more quality time with Diya and badminton won't interrupt in that. Diya tells Madhuri that she is sure everything will be better with time and it will be a fresh start for her and Arjun both. They will think about something new after this break from badminton. Arjun says he decided to visit Mandarmani.
Karan reaches the academy and the reporters start asking him why he wants to play badminton after being the chairman and whats the reason behind competing with Arjun and Diya. Karan says he never forgot his roots and it was his decision to leave the post of chairman and he has no such enmity with Arjun. Media is just presenting it with adding lot of gossips. He says his court hearing is going on and the truth will be out in some days. He wants to come back by playing this match if Arjun and Diya reach academy. One reporter asks what does he mean by mentioning "if"?
Kavita covers it up and tells Karan to not utter anything which can bring trouble for them. Kush there looks at some fake beard and wigs in the store room. Dipika knocks on the door and he hides the stuffs. She asks him what he is doing here to which he gives excuse. Dipika says she is feeling bad for Arjun that he can't play the match and where was Kush where Arjun was leaving for Mandarmani. Kush says he was outside and he tells something strange against badminton which surprises Dipika. She says what happened to him suddenly? Kush enters the academy in a disguised look and sits to witness the match. The host tells Karan to be careful as his competitor will be Diya and Arjun.
Host announces the players' names one by one. Karan tells Kavita that Arjun is not going to come. Host says he will count from one to ten and Arjun Diya have to be present within that time. Diya and Arjun come before that and Karan gets shocked seeing them. Host says Diya's hands are injured and she will be disqualified, she can't play the match. Arjun shows everyone by taking off her bandage that her hands are clean and safe. It shocks Karan and Kavita.
Episode ends
Also See: