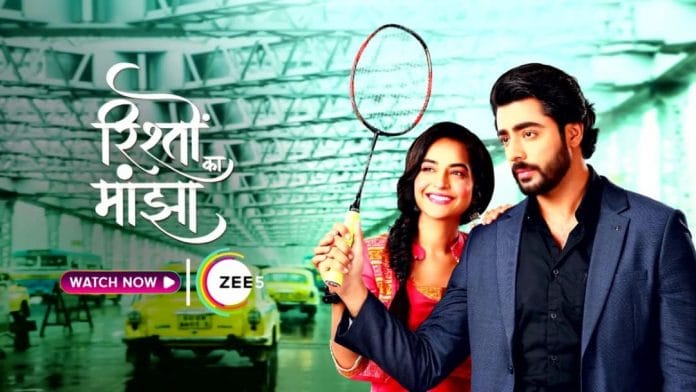 Rishton Ka Manjha 30th March 2022 Written Update on TellyExpress.com
The episode starts with Karan-Kavita and Arjun-Diya's name being announced for final round face off in badminton competition. Kush is sitting among the spectators in disguise and he shows thumps up to Arjun. The host says that Arjun is giving a comeback and Arjun and Diya are couple in real life too. The reporters tell about about Karan and Arjun. The match begins and Kush looks at the referee. Karan and Kavita win points in the beginning. Later Diya and Arjun score points and level the score. Madhuri cheers for karan and Diya. Arjun and Diya are scoring points while Karan and Kavita are losing. Arjun and Diya win the first set. If they will win second set too, they will be declared the winner and in other case third round will be played.
kavitha says to Karan that it seems the referee ditched them. Karan goes to the referee and threatens him. The referee says to Karan that he can't help him since someone blackmailed him to viral the video of his discussion with Kavita about match fixing. So they both will get caught if he favors him and asks him to let him do his work. Karan asks if the person, who blackmailed him, is here. The referee looks around and says that he was there, but now he isn't. Karan says him to tell him if he sees that man again. Kush comes to sit with Madhuri removing his disguise.
Arjun says to Karan to win the match genuinely. He says that he doesn't trust his game despite of being a good player. He says him to focus on the game and win him inside the court. His game is over after this set. Karan says to himself that match is still on and let see what I will do ahead. The second set of the match starts. Arjun and diya play well and keep scoring points. Karan throws some powder in Arjun's eyes. Arjun starts having eye irritation. Diya blames karan. She says that he has thrown something in Arjun'eyes as he was coming closer to Arjun while playing. She asks him to show his hand. Karan shows his hand and there's nothing in his hand. Diya demands to check the CCTV footage.
They all see the CCTV footage recording. Madhuri says that he has thrown something, but don't know what. Kavita asks Diya what she's going to do now. Diya says again that Karan has done something.Madhuri asks Arjun how he can play with irritated eyes. Arjun is determined to play the match. Diya tries to make Arjun understand that he can't play like this, but Arjun is adamant to play the match. The match restarts. Arjun has difficulty to play shot. So Karan and kavita wins the second set. Diya tries to make Arjun against, but in vain. Arjun says that they win whether they win or lose the match.
The episode ends.
Also See: