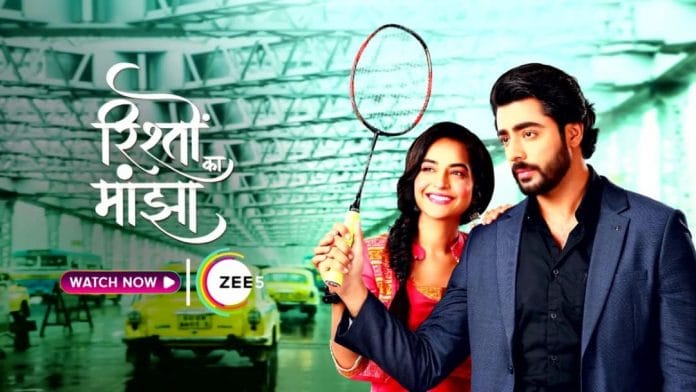 Rishton Ka Manjha 31st March 2022 Written Update on TellyExpress.com
The episode starts with Madhuri asking Arjun if he can play the match with his eye problem. He says he will manage. Diya observes Karan as to what the latter is hiding from them. It seems Karan is responsible for Arjun's eye problem. Karan does warm up and she notices his kerchief which is coming out of his pocket. She sees red chilli powder and understands that he threw the powder with the color at Arjun's eyes so that he finds it difficult to play to match. She says she can disqualify Karan from the match but she won't do that. She will make him lose in the badminton court.
The match starts and Karan Kavita score better than Arjun. Arjun can't look properly and Diya gives him strength to play well as everyone is here for him and they are expecting that he will win the match. She says his spirit brought back badminton in his life so he should not give up at any cost and she wants to see him winning the match. He recalls his previous insults done by Karan. Madhuri says Arjun can win and Kush also cheers for him along with his whole family. Arjun and Diya give their hundred percent and score Better than Kavita and Karan. The match becomes interesting and at last Arjun gives his best shot and wins the match by scoring 21 when Karan's score was 19. Karan gets shocked and upset. Arjun gets overjoyed and hugs Diya. His family clap for them and celebrate the moment. Reporters congratulate Arjun for his come back and for playing the match brilliantly.
Arjun says Karan played well and Diya says Karan used his cheap tactics in the court as well to make them lose but it didn't work. She shows him the kerchief as proof and says Karan is not capable enough to win over Arjun and he lacks the calibre. Reporters ask Karan whether its true. Karan stays quiet. Arjun says Karan always focused on making someone lose but didn't focus on his own game thus he failed to become a champion. He advises Karan to rectify his mistakes else he will lose everything he has. Karan looks shattered. Madhuri says he is happy for Arjun and Diya both.
Arjun and Diya go back home and Banno doesn't let them enter as Amitabh told her to do so. Madhuri asks but why. Amitabh comes with the aarti thal saying he will perform aarti of Arjun and Diya as they won the challenge. Not just a woman but a man also can perform aarti he adds. He welcomes Arjun and Diya and hug them. He says Diya is like a blessing for them who saved them from crisis. He says they will throw a big party to celebrate the achievement of Diya and Arjun. Arjun and Diya get delighted.
Episode ends.
Also See: