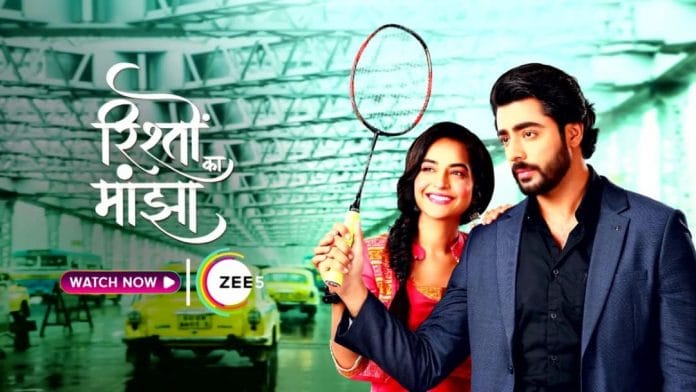 Rishton Ka Manjha 3rd February 2022 Written Update on TellyExpress.com
The episode starts with Madhuri telling Amitabh to open the door and she says they can solve the matter by talking. He should not take any drastic step. He should not be afraid of Karan. Everything will be fine. Luv also tells Amitabh that he will handle his business and will not let anybody ruin his image. Amitabh is about to shoot himself but Arjun breaks the door. He stops Amitabh and the bullet goes up. Arjun throws away the gun and scolds him for not thinking about Madhuri. Arjun calls him selfish for always thinking about his own money and own business. He says Amitabh should start afresh and gather courage to face Karan and Mr Khurana.
Diya tells Arjun that she was really scared for Amitabh. Later she gets angry on him as he didn't think about his own safety also he didn't share anything with her. Arjun says sorry to her and Diya asks him how did he execute the plan with Kush. Arjun explains how he overheard Madhuri and Dadi's conversation that day and learned Anjali is Madhuri only. He was feeling betrayed but then realised Madhuri could be under pressure so she took this step. Later when Diya told him about Bhairo Singh's actions he told Kush to keep eyes on Bhairo. At night Arjun and Kush saw Bhairo aka Dilabar was trying to break the back door. They followed him and Dilabar made Madhuri unconscious. He put her in the car and got beaten by Kush and Arjun. Kush asked him why he wants to kidnap Madhuri. Dilabar revealed Karan sent him.
Arjun told Kush about Madhuri's false statement against him. Kush says he was equally shocked after knowing the truth but he believed in what Arjun told. Madhuri says she was writing a letter for Arjun when Dilabar made her unconscious. Arjun told Dilabar to follow their instructions so that Karan doesn't get any clue about their plan. Arjun confronted Madhuri in the safe place that why she betrayed him. Madhuri said she thought of killing herself as she ruined his career. She was not able to tell him the truth directly and she knew he will start hating her after knowing about her act. Arjun said he can never hate her as she is his mother.
Arjun tells Diya that he then recorded Karan's confession without his knowledge and brought Madhuri in the conference. Arjun adds Karan could have harmed Diya if he got any hint. Diya says but she is still not convinced. Arjun says he is ready to accept any kind of punishment.
Karan calls Mr Khurana but he doesn't pick up. The staff says he lost his position and enquiry commission passed the order for his interrogation so Police will arrest him. Karan gets nervous and says the video is fake. The inspector makes him wear the handcuffs. He calls his lawyer to get bail.
Media questions him and Karan tells that he didn't do anything. Amitabh also gets arrested and Madhuri tries to stop the inspector saying Karan put pressure on Amitabh thus he supported the wrong thing. Inspector says Amitabh has to go with them for interrogation. Amitabh says he is ready to accept the punishment as he did wrong.
Episode ends
Also Check: