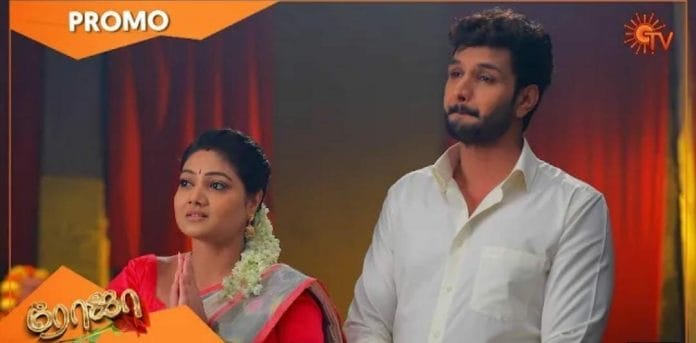 Roja Upcoming Story, Spoilers, Latest Gossip, Future Story, Latest News and Upcoming Twist, on TellyExpress.com
Sun Tv popular show Roja keep entertaining it's audience with the gripping story line. Now serial focusing on Roja to perform the pooja
In the previous episode we saw; Roja felt bad seeing Arjun sleeping outside. She was confused with feelings on Arjun. She was often getting his thoughts. Arjun dreamt of Roja. Jagan and his henchman were keep an eye on them. They planned to kidnap Roja when she drifted into sleep.
Later, Rosy was praying God to give a husband to Jessy like Arjun. She was worried for Roja. Jessy assured her that she set GPS tracking machine in her bangles. If Roja in danger she can able to trace her immediate.
She contacted her team to inquire about the situation. She was panic when she learnt GPS connection were lost. Later Roja asked Arjun to sleep inside for her sake. She asked him to share about his wife. Arjun shared his love story to her. Jagan asked his henchman to attack Arjun and kidnap Roja.
In the upcoming episode viewers will see; Roja and Arjun will reach to Renuka Devi's temple. Jagan will demand a snake charmer to kill Arjun. He shouldn't leave this place alive. Snake charmer will assure to him. Later Arjun and Roja will perform the pooja together.
What will happen next? Will Roja get back her memories? When will Arjun caught Shyam?
In the upcoming episodes will answer to our all questions stay tune with our space for more updates