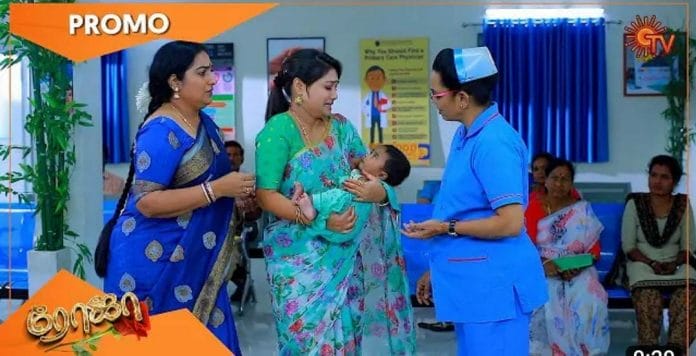 Roja Upcoming Story, Spoilers, Latest Gossip, Future Story, Latest News and Upcoming Twist, on TellyExpress.com
Sun Tv popular show Roja keep entertaining it's audience with the gripping story line. Now serial focusing on Arjun to learn the truth
In the previous episode we saw; Arjun and Annapoorna visited temple to meet Amudhanayaki. Annapoorna ask her to fix one auspicious day to conduct naming ceremony function to her grandson. Yasodha and Balu followed them and overheard their conversation. Amudhanayaki alerted Arjun that his baby life is in danger. She gave a safety rope to him.
She advised him to don't bring his child out of the house until pooja end. Roja inquired Arjun what did Amudhanayaki said to him? Arjun remain silent and tie the rope in front of his house. He managed to lie with Roja Yasodha and Balu keep an close watch on Roja.
Annapoorna and Arjun do the pooja in temple. Roja leave baby on bed to clean her sarie. Yasodha take her baby in her hand. Balu asked her to take baby outside. Roja noticed Yasodha going outside carrying her baby. Roja shout to stop there. She scold Yasodha for playing with her son life.
In the upcoming episode viewers will see; Roja will notice her baby falls sick. Kalpana will try to give syrup to her baby. Yasodha will demand Roja to take baby to hospital. Roja will leave the house taking her baby.
Amudhanayaki will demand Arjun to leave from there. Arjun will reach to home and learn from Yasodha that Roja left the house. Roja will admit her baby in the hospital
What will happen next? Will Jessica give a statement against Arjun?
When will Arjun proves Shyam's crime?
Upcoming episode will answer to our all questions stay tune with our space for more updates