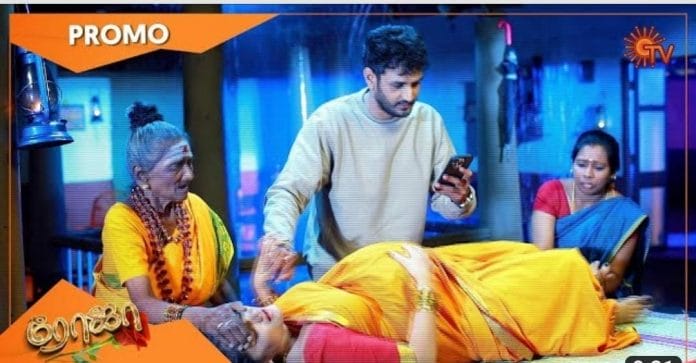 Roja Upcoming Story, Spoilers, Latest Gossip, Future Story, Latest News and Upcoming Twist, on TellyExpress.com
Sun Tv popular show Roja keep entertaining it's audience with the gripping story line. Now serial focusing on Arjun to full Roja's wish
In the previous episode we saw;Roja had a nightmare. Arjun took Roja to Vedhavalli. She asked him to fulfill her wish. Amma will protect her. Arjun assured her to take her to that temple. Pooja gave her luggage to her. Roja said to him that family don't allow her to travel in this time. That's why she decided to go straight to temple.
Annapoorna lashed out at Pooja for sent Roja alone without informing them. She complained to her that she started taking decisions without informing them. Later, Arjun took Roja to temple. But they met with an accident. Arjun saved her. Roja finished her Pariharam in temple.
In the upcoming episode viewers will see: Annapoorna will alert Arjun that he shouldn't take Roja out in solar eclipse. Arjun will assure her. While doing Pariharam Roja will get labour pain. Arjun will rush near her to save Roja. He will seek Kayal's help to save Roja
What will happen next? Will Jessica give a statement against Arjun?
When will Arjun proves Shyam's crime?
Upcoming episode will answer to our all questions stay tune with our space for more updates