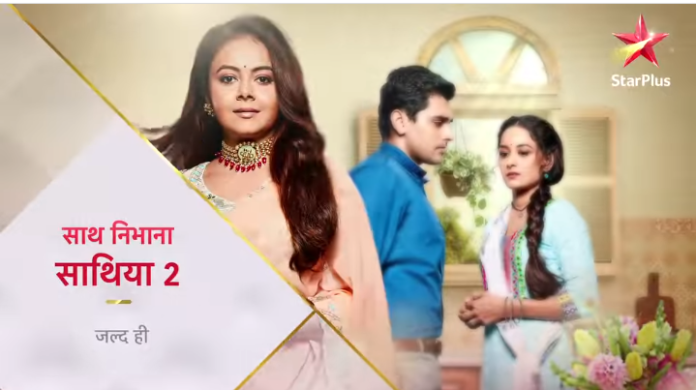 Saath Nibhaana Saathiya 2 18th January 2021 Written Update on TellyExpress.com
Episode begins with Paresh tastes Jamuna's sweet dish and says no one can make tasty sweet dish than her. Gehna smiles when Jamuna passed the plate to her when she tried to take the plate which was near Jamuna. Paresh says Anant is lucky to have Jamuna and Gehna in his life. Kanak tells Jamuna that Mrs. Doshi is here to meet her with her committee members. Gehna tells Jamuna to go and meet the guests saying she will give the Tiffin box to Paresh. Jamuna goes out of the kitchen and Kanak follows her.
Gehna tells Paresh that Jamuna saved her today when she was about to fall from stool and says she also took her name after so many days and gets emotional. He says their relationship won't break that easily because Jamuna loves her so much and now she is just angry on her that's it so soon everything will be fine. Jamuna greets Mrs. Doshi and other guests. Mrs. Doshi says Kanak has to win this year too in dance competition like always. Kanak says no one can beat her in dance and assures her that she will win this year too.
.Jamuna asks Kanak to bring tea and snacks for guests. Hema says she already told Gehna to bring that, don't know what is she doing in the kitchen still. Mrs.Doshi notices Gehna's nuptial chain and vermillion on her forehead and says she doesn't know about her marriage and asks why she is working here after marriage too and asks doesn't her husband has any problem with it. Kanak says Gehna's marriage happened with Anant. Mrs. Doshi shocks hearing her and questions Jamuna for doing Anant's marriage with maid.
Other guests too questions Jamuna. Praful was about to say something but Paresh stops him. Gehna defends Jamuna saying Jamuna has big heart that's why she accepted her as her daughter when everyone treated her as maid. Praful says Gehna never took stand for herself but now she is defending Jamuna in front of everyone. Mrs. Doshi says Gehna is right about Jamuna and blesses Gehna. Jamuna suggests this year they should handover the responsibility to someone else and looks at Gehna.
Mrs. Doshi notices that and says Gehna is daughter in law of Desai family now so she has to take full responsibility for utsav preparations and also has to participate in dance competition. Kanak thinks Gehna can't handle this. Gehna says she will take responsibility for utsav preparations and also will participate in dance competition. Kanak deliberately suggests Gehna's name for every responsibilities.
Gehna is happy that Jamuna handover the responsibilities to her by trusting her. Kanak plans to spoil Gehna's name. Anant asks Paresh about Radhika. Paresh informs him about what happened in the house and asks him to wish Gehna. Anant brought gifts for everyone. He gives Gehna's gift to her and shocks seeing Radhika with luggage. Radhika asks permission to stay in Desai mansion for few days. Kanak says Radhika will finish Gehna's game.
Episode ends.
Precap – Sagar destroys the preparations Gehna did for utsav.
Click to read: