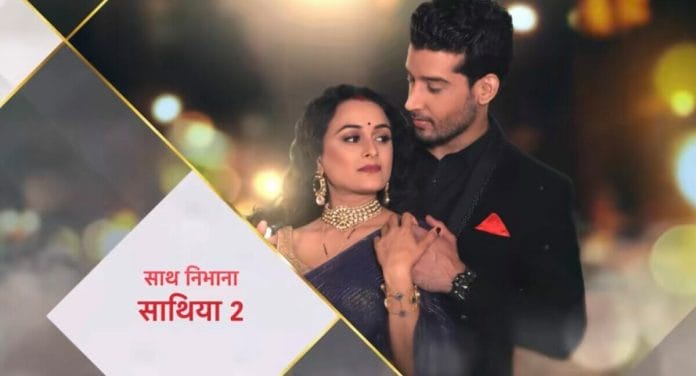 Saath Nibhana Saathiya 2 Spoilers, Upcoming Story, Latest Gossip , Future Story, Latest News and Upcoming Twist on tellyexpress.com
This week Saath Nibhaana Saathiya 2 begins with Dadi tells Kaddu bua that the latter need not to give the locker key to Suhani. Kaddu bua says that she forgot that she is just a guest and gives the locker key to Suhani and she leaves the house. Other side, Agastya takes Gehna to his house saying that Surya told him to take her to his house. He asks her to cook saying that he is yearning to eat home made food. Suhani says that Gehna and Kaddu bua's game over. Sikandar says that now it's Urmila's turn. He adds that he won't leave Surya too. Suhani says that they needs Surya until his property gets transferred on their name. Surya comes there and tries to beat Sikandar up. Suhani stops him and asks him that how can he behave like this with Sikandar for theif Gehna.
Surya reminds her that Gehna is his wife. He asks her that why Gehna's earring beats were found in her purse. She asks him that if he is suspecting her. He reveals that he saw a lady in the CCTV footage. And he will find out the truth. She says that he can do whatever he wants and she don't care about it because they did nothing wrong. Agastya asks Gehna to move on because even Surya did not do anything for her. She takes Surya's side saying that it's not easy to go against their own family.
Later, Surya visits Agastya's house to meet Gehna and finds her sleeping. She holds his hand and asks him to not leave in her sleep. Surya thanks Agastya. Agastya tells him that Gehna is his friend and he can do atleast this much for her. Surya leaves the house. Gehna wakes up and asks Agastya about Surya. Agastya lies to her that Surya did not come. She tells him that she is feeling like someone separating her from Surya and she don't want to lose Surya. Meanwhile, Sakuni and Riddhima enters Seth mansion. Suhani greets Sakuni. She tells Sarika to show guest room to Riddhima. Sarika takes Riddhima to guest room. Sakuni asks Suhani to find a rich guy for her. Suhani tells her that she will do that after finishing Surya matter. She asks her that if Riddhima can do their work. Sakuni tells her that Riddhima is poor and educated and she can lure Surya for sure.
Agastya notices Surya's wallet and he takes it without Gehna's knowledge and leaves the house. He enters Seth mansion. Riddhima misunderstands him as Surya and hugs him saying that she is afraid of darkness. He helps her to reach her room. He keeps Surya's wallet on the table and leaves from there. Next day, Gehna lies to Sikandar's staff and sneaks into Sikandar's cabin. She finds Jeweller's visiting card. Surya holds Gehna's shoulder. She shows the visiting card to him. They finds the duplicate key from Sikandar's locker. They reaches Seth mansion. Gehna tells Suhani that they found duplicate key of locker from Sikandar's cabin. Surya says that it has been proved that Sikandar is the culprit so Sikandar should leave the house. Suhani asks him that if he will throw Sikandar out of the house for Gehna. Surya says that Sikandar deserves punishment.
Dada, Dadi and Urmila gets happy seeing Gehna. Surya tries to remove the partition line but Gehna stops him saying that it's not the right time for this. Sikandar and Gehna gets into the argument. Surya pushes Sikandar and he warns him. Gehna does not let Surya expose Sikandar which shocks the latter. Sikandar wonders that how Gehna found the key from his cabin. Suhani ask him to calms down. They notices Shreya eavesdropping them. Surya tells Gehna that Sikandar won't change. Gehna tells him that they should show the right path to Sikandar. He apologizes to her for his mistakes and he says that they should cancel their divorce. She asks him to accept Urmila as his mother but he refuses. So she says that they can't stay together if he can't accept Urmila then. Suhani overhears their conversation and smiles.
Urmila warns Gehna about Riddhima. Gehna tells her that she trust Surya and their love. Riddhima acts like she cares about Surya. She tells Surya that Gehna don't care about him at all. He says that Riddhima should not comment without knowing anything. Gehna brings tea for Surya saying that she knows to take care of Surya. Riddhima asks Surya to drop her in the market. Gehna tells her that she is going that way only so she can drop her. Sarika asks her share from Suhani so she can live with Arjun peacefully after his release. Suhani slaps Sarika. Sakuni asks them to not fight. Gehna drops Riddhima in the market and she tells her to return to her house because no one can come in between her and Surya. Riddhima tells her that she won't back off.
Agastya says to Gehna's photo that she should stay with him to know about his love and he hides the photo seeing Gehna. He asks her to join his new law firm as partner. She asks him to find out that how Sikandar released from jail. He informs her that Arjun took all the blame on himself on Suhani's behest. Sikandar throws Shreya out of the house. But Surya and Gehna supports Shreya. Shreya goes to Gehna's side to stay with them. Urmila and Dadi motivates Shreya. Gehna informs them about Agastya's offer. Shreya asks her to not lose this opportunity. Urmila and Dadi also tells Gehna to work in Agastya's law firm. Dada says that Gehna can help many people as lawyer. Riddhima overhears everything and she tells about it to Suhani and Sakuni. Suhani says that it's a good news because Gehna won't be able to spend time with Surya.
Next day, Agastya gets shocked seeing Riddhima in his house. Riddhima apologizes to him for misunderstanding him as Surya. She asks him to hire her. He gets happy learning that Gehna decided to join his law firm. He tells Riddhima that he can't hire her now. She calls Surya and asks job for her in his office. He asks her to come to office. Later, Surya asks Suhani that why she is not having food. He asks about the clothes which Suhani has with her. She tells him that he wore this clothes when first time she saw him. She provokes him against Urmila. He promises to her that he won't leave her. Gehna makes sure that Sarika learns about Arjun's death sentence and Suhani and Sikandar are responsible for it. Sarika questions Sikandar and she accuses him. Sikandar is about to slap her but Gehna stops him.
In the upcoming episode, Gehna will ask Surya that if he ever thought Urmila must have some reason to leave him. Surya will tell her that he hates Urmila and he can't love her. He will add that Gehna can try how much she wants but he won't join her side.
Stay tuned to this space for more updates about Saath Nibhaana Saathiya 2.