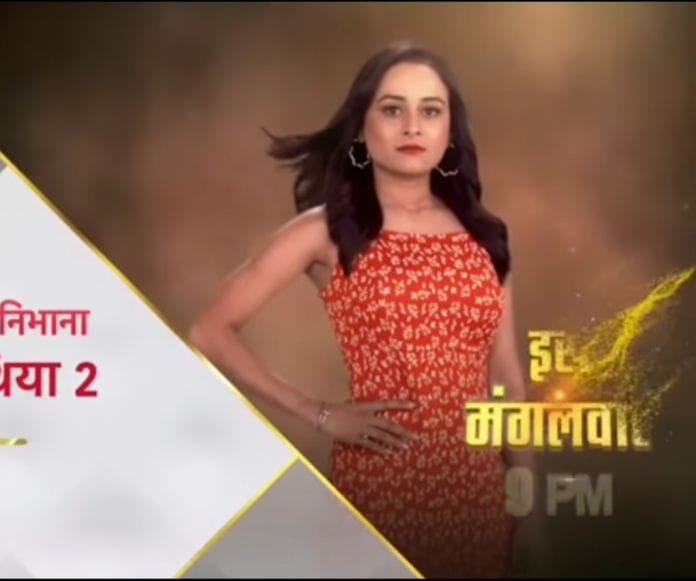 Saath Nibhana Saathiya 2 3rd June 2022 Written Update on TellyExpress.com
Episode begins with Gehna and Surya's hands get stuck in the jar. They argues with each other. She gets an idea to take their hands from the jar. He asks her to say because he need to sleep. She takes him to the washroom and washes their hands. He asks her that from where she gets these kind of ideas. She suggests to take family members help. He tells her that they must be sleeping so should not disturb them. He adds that they will think any other idea and leaves the washroom.
Next day, Kaddu scolds Suhani for eating without serving others. She criticizes the food. Surya and Gehna comes there. Suhani scolds them for sticking to each other. They shows their hand and jar. Everyone laughs seeing that except Suhani. Dadi asks that how it happened. Gehna puts the blame on Surya. They starts arguing with each other. Kaddu asks them to stop it saying that she will do something. Gehna tells her that they tried everything but no use.
Kaddu asks Sarika to bring hot water. Sarika goes to the kitchen and brings hot water. Kaddu asks Gehna and Surya to keep the jar in that hot water. They follows Kaddu's instructions. Surya moves from there to talk on a call. Dadi notices his expression and asks him that what happened. He tells her that labour strike happening in their Shimla factory so he has to leave for Shimla. Sarika murmurs to Suhani that the latter's plan worked. Suhani tells her that Surya can't return before 3 months. Surya goes to his room to pack his luggage.
Gehna asks Shreya that if the latter is fine. Shreya tells her that she is fine. Gehna picks the call. Urmila asks Gehna to save her from Suhani. She tells the location to her and asks her to come alone. Gehna leaves the house to rescue Urmila. Meanwhile, Surya calls Gehna to find his jacket. He wonders that where she went now. Gehna reaches Urmila's location. Auto driver tells her that this place is dangerous and she won't get transportation service and leaves from there.
Surya bids bye to everyone. Sarika asks him to not search Gehna because she left the house without informing anything. He leaves the house. Suhani thinks that everything will be changed when Surya returns from Shimla.
Gehna searches Urmila and finds her in a room which is locked. She says that she can't let anything happen to Urmila. She screams for help and asks to open the door. She tells herself that she has to control the temperature and searches the switch box. She asks Urmila to not get afraid saying that she will rescue her. She asks God to help her. She says that Suhani should not have done this to Urmila and cries.
Episode ends.
Precap – Gehna is forced to write a letter to Surya stating that she is pregnant and she is leaving him because she don't love him.
Click to read