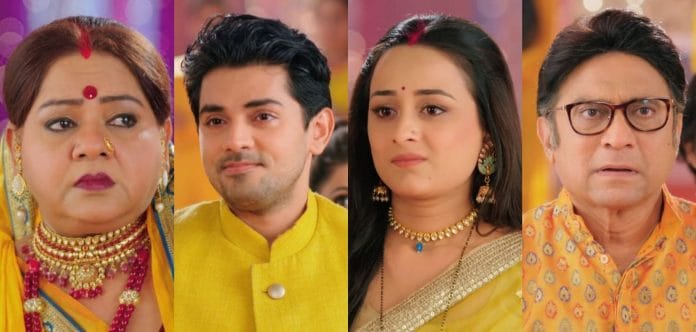 Saath Nibhana Saathiya 2 7th February 2022 Written Update on TellyExpress.com
Episode begins with Gehna tells Anant that if she made mistake then she would have apologized to him but here she is innocent so she wants him to realise his mistake. She gives the broken nupital chain to him and he throws it. She asks Praful to not stop her today. She tells Jamuna that the latter must be happy today that she is leaving the house today. She taunts her by talking about the importance of daughter in law. Anant asks her to stop giving lecture and he throws her out of the house. She tells him that she will choose her way from now on. She goes to temple and asks God that why she faced all this and why she lost her precious relationship.
Meanwhile, Anant tells himself that wrong happened with him and he wants revenge. He meets hitman to hire him. Hitman takes him to his Boss. Boss orders his men to kill one guy for giving information about him to Police. Hitman introduces Anant to his Boss. Boss tells Anant that he knows that the latter and Gehna caught terrorists. He agrees to kill the person whom the latter wants to get killed and in return he don't want money. But Anant has to deliver his stuff because Police won't suspect him. Anant asks him about the latter's stuff. Boss asks him to not question and it's a deal between them. Anant agrees to deliver it and takes the bag and leaves from there. Hitman gives Abhay and Gehna's pictures to his Boss.
Two goons discuss about Anant's car number and the stuff they are going to get from Anant. Gehna overhears their conversation. She realises that Anant is in danger and wonders that what is that stuff. Later, few Goons stops Anant's car. Gehna gets off from Anant's car dicky. Hitman tells his Boss that their rivals caught Anant and trying to get their stuff from Anant. Boss tells Hitman that the latter knows that what he has to do in this situation and disconnects the call. Gehna notices the bomb which has been fixed in Anant's car. She tries to save him but bomb blasts. Hitman tells his colleague that Gehna saw everything so she has to die too.
Gehna takes the bag and runs from there. They chases her. She hides from them. She tells herself that she left Anant for her self respect and she thought one day he will realise his mistake and she will reunite with him. But God snatched that hope from her by killing Anant. She says that now she is alone and she don't want anyone's support from now on. And from today Anant's Gehna also died and she will start her life alone now.
Episode ends.
Precap – Gehna learns karate.
Click to read