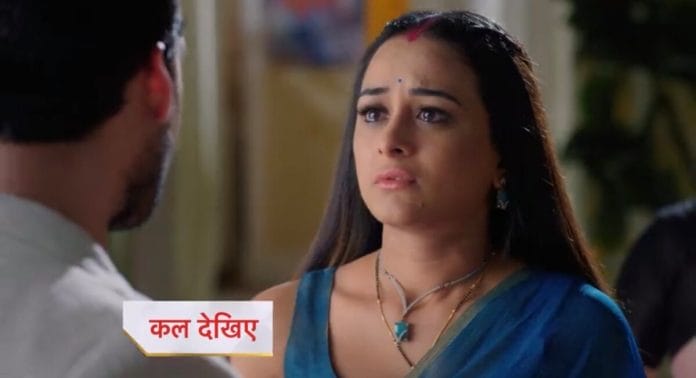 Saath Nibhana Saathiya 2 Spoilers, Upcoming Story, Latest Gossip , Future Story, Latest News and Upcoming Twist on tellyexpress.com
Sneha Jain and Gautam Vig starrer Saath Nibhaana Saathiya 2 is one of the top Star Plus show. It is a sequel to the long-running show Saath Nibhaana Saathiya. Now, Gehna fails to expose Suhani because Suhani stole the proof from Gehna so it will be intriguing to watch that what going to happen in the future episodes.
In the current track, Dada, Dadi and Shreya prays for Gehna and Surya's relationship. Gehna assures Dada and Dadi saying that nothing wrong will happen today. Other side, Sarika punctures Gehna's car to stop Gehna from reaching the court. Surya refuses to have food and leaves the house. Sarika offers lift to Gehna but the latter refuses. Tantrik Santosh arrives there and says that she can feel the presence of ghost. Gehna signals at Tantrik. Sarika questions Tantrik. Tantrik says that she won't help them if they doubts her then. Dadi stops her from leaving the house. Gehna apologizes to Tantrik on behalf of Sarika. Suhani tells Tantrik that she has seen her somewhere. Tantrik says that it won't be easy to get rid of that ghost. Suhani tells her that there is no ghost in the house and asks her to leave. Gehna says that they should leave for court without wasting time. Tantrik says that Suhani's end is sure by that ghost's hand. Suhani gets scared and asks her to perform puja. Gehna picks Agastya's call and tells him that she won't reach the court. Later, Tantrik acts like talking to Urmila's ghost. Urmila's ghost comes there and says that Suhani killed Virendra too. Suhani accepts that she killed Urmila.
In the upcoming episode, Gehna will scream for help. Suhani will come there and tell her that she can also play horror games. She will show the CD and say that Gehna ruined her life.
How Suhani got the CD? How Suhani learnt about Gehna's plans?
All these questions will be answered in the upcoming episodes.
To know what will happen next in your favorite show Saath Nibhaana Saathiya, stay tuned to this space.