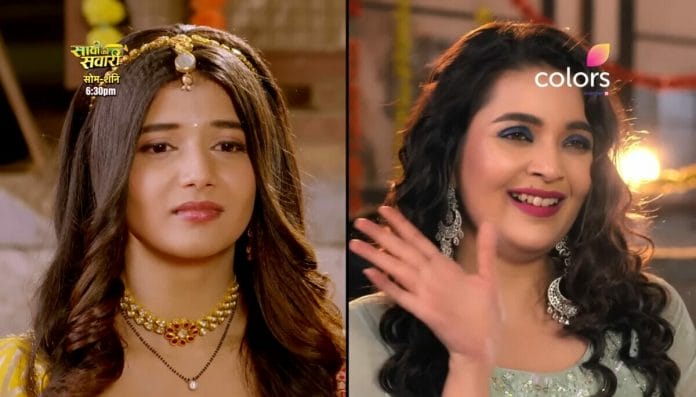 Saavi Ki Savaari Spoilers, Upcoming Story, Latest Gossip , Future Story, Latest News and Upcoming Twist on tellyexpress.com

Colors TV show Saavi Ki Savaari features Samridhi Shukla as Saavi and Farman Haider as Nityam in the lead roles. This is the story of the girl who drives auto to lead her family. Now, Dimpy is using Thushar and Thasvi to get revenge on Saavi so it will be interesting to watch that what going to happen in the future episodes.
Earlier its seen that, Vedika got happy seeing the gifts which Saavi prepared for factory workers. Saavi told her that Nityam is against this but she can't lose her individuality to make this relationship success. She said that she will reach the goal but it will take time. Sonam and Ratna decided to meet Shivam after attending factory celebration.
Thasvi packed her clothes and wrote letter for Saavi. Dimpy saw that and told Thushar about Thasvi's decision. She planned to use Thasvi to throw Saavi out of the house. Dalmias reached the factory. Nityam entered the factory on Joshi's behest. He recalled that how her father struggled to run this factory and how factory workers refused to help them after his father's death.
He told Vedika that Saavi thinks owner and workers should be like friends but she is wrong because money binds them. Saavi got surprised learning that she got Manager job at factory. Dimpy thought this is Saavi's last smile. Meanwhile, Thasvi met Thushar in the bus stand.
In the upcoming episode, Saavi and Nityam will be against each other in kite flying. Saavi will help Nityam when he cut his finger by mistake. Later, Saavi will get Thasvi's letter due to Dimpy and she will decide to stop Thasvi.
Who won between Nityam and Saavi? Will Saavi be able to stop Thasvi?
All these questions will be answered in the upcoming episodes.
To know what will happen next in your favourite show Saavi Ki Savaari, stay tuned to this space.