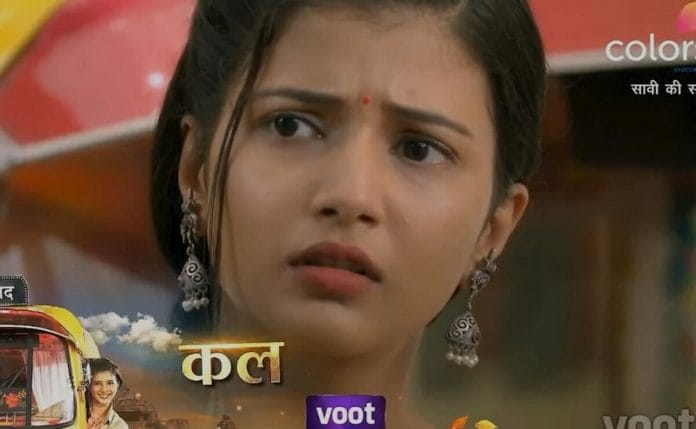 Ajooni Spoilers, Upcoming Story, Latest Gossip , Future Story, Latest News and Upcoming Twist on tellyexpress.com
Colors show Saavi Ki Savaari features Samridhi Shukla as Saavi and Farman Haider as Nityam in the lead roles. This is the story of the girl who drives auto to lead her family. Now, Nityam gets engaged with Sonam so it will be interesting to watch that what going to happen in the future episodes.
Earlier its seen that, Saavi got shocked seeing Nityam in the police station. Nityam learnt about Radhe Shyam from Saavi. He decided to take Saavi to Sonam's college. Shivam called Sonam and he informed her that he started new business which is catering service in their college.
Sonam saw Saavi's auto outside the police station. She called Saavi and asked her about auto. Saavi lied to her that she is going to college to get notes, so she parked auto outside the police station. Nityam's car got stopped in the middle of the road.
He told Kiran to send service team to his location as soon as possible. Saavi started changing the tyre. She told him that she has to return to ujjain as soon as possible. She asked him to learn to change tyre. He helped her. She told him that he must be thinking a way to pay her.
He asked her that how much she wants. She told him that he can't switch on the AC and he has to open the windows. Dimpy visited Saavi's house. She told Nutan that she will design Sonam's marriage outfit. She shows Sonam and Shivam's photos to Sonam which she found in Sonam's friend profile.
She asked Sonam to invite Shivam to her marriage because he looks like a close friend of her. Nityam and Saavi reached Sonam's college.
In the upcoming episode, Nityam will visit Saavi's house. Sonam will wonder that if Nityam got to know about horoscope swap. He will tell Sonam that he thought to cancel the wedding because of Saavi. Saavi will interfere.
What Saavi will say to Nityam now? How Sonam will react now?
All these questions will be answered in the upcoming episodes.
To know what will happen next in your favourite show Saavi Ki Savaari, stay tuned to this space.