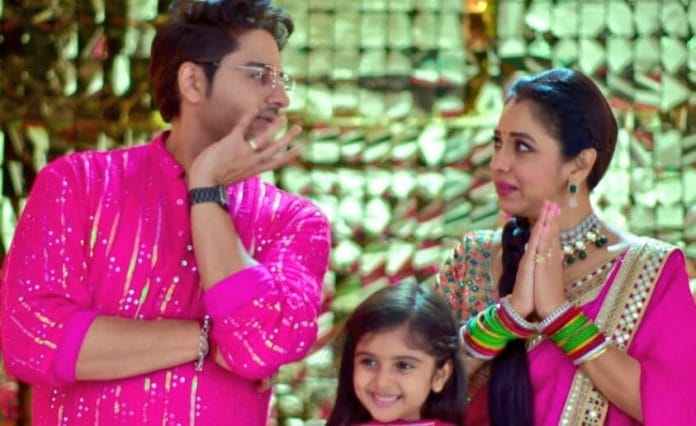 Anupama Upcoming Story, Spoilers, Latest Gossip , Future Story, Latest News and Upcoming Twist on TellyExpress.com
Show Anupama is high on drama. Samar and Dimple's love story to kick start in the show against Leela's wish.
In today's episode, Samar confesses his love for Dimple. Dimple asks Samar not to confess anything as she is not ready. Leela spots Samar and Dimple. She bashes Samar for getting attracted towards Dimple. Samar defends Dimple. Leela accuses dimple. Anupama defends Dimple. Leela says Anupama has a hand in inserting Dimple in Samar's life. She goes mad. Anupama asks Leela to show some manner in a public place.
Samar confesses he likes Dimple. Leela against Dimple. Anupama questions Leela about hating Dimple. Leela and Anupama argue with each other. Leela calls Anupama heartless. Anupama asks Leela to be calm. Leela asks Anupama to not manipulate Dimple at her. She calls Dimple cunning. Anuj stops Leela. He asks Anupama to come along. Hasmuk corrects Leela. Leela says she won't let Dimple's dream come true to marry Samar. Dimple says she isn't dreaming at all. Leela gives an ultimatum to Anupama. Maya captures the fight between Kapadias and Shahs.
Elsewhere, Mohit ask his crew members to get ready as she will reach anytime. He says she is coming. Kavya asks Mohit if he isn't hyping so much. Mohit asks Kavya to wait till come. Maya makes her entry. She meets Mohit and Kavya.
In the upcoming episode, Maya will introduce herself as Anu's biological mother. Anuj and Anupama will get stunned. Anu's custody drama in Anupama next. Keep watching the show for more entertainment.
Stay tuned for TV serial news and latest updates