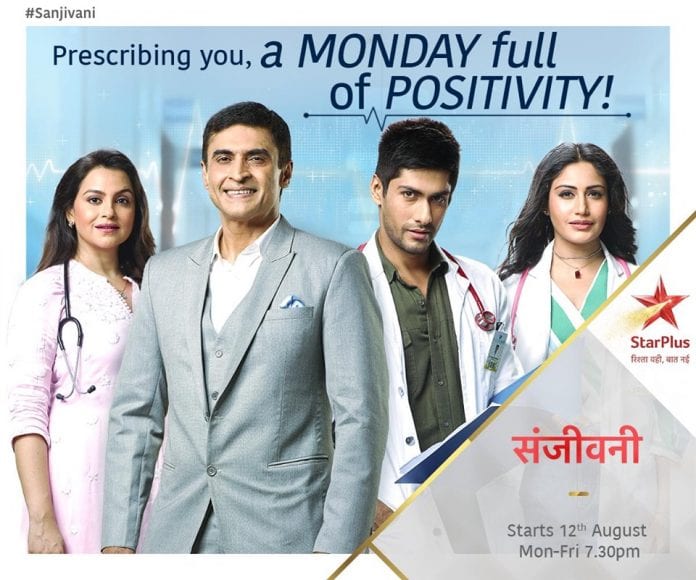 The episode starts with Dr. Sid flirting with a girl with whom he has spent the night but still couldn't remember her name. Two kids are seen stealing food from a shop and when chased they both run away. One of the kid skids and gets hurt on his head and falls in the river. Dr. Sid sees this and rushes to help the kid. He jumps in the water and saves the kid. He gives basic first aid to him but it's of no use so he used the things like alcohol and tubes and cut his throat to give respiration treatment. He calls helicopter lying about the kid to be a rich kid.
The helicopter comes and the kid is taken inside. The kid's mother asked about where he's taking the kid and he says where people save everyone's life, Sanjivani.
Dr. Ishaani gets down from the cab and looks admiring at Sanjivani hospital. She looks up to find the helicopter which has the kid and sid and smiles. The kid is rushed into the operation theater and he gives details to Co doctor about his conditions. When the other doctor asks about improper techniques which he used he replies that one should make use of the opportunity instead of finding faults. He consoles the kid's mother and asks her to not worry.
Sid bumps with Dr. Ishaani outside who offers him chocolate as she finds him to have low BP and sugar seeing his eyes. He takes the chocolate and suggests a psychiatrist for her while Ishaani gets offended. She informs the receptionist that she's the first-year intern and they give her form and guides the way for her. She bumps into another girl who happens to be a Co intern Aasha. They argue at the start but then reconcile but still, Ishaani refuses to do handshakes as she's hygiene freak. When Aasha asks about her full name Ishaani dodges the question and leaves for conference hall.
Dr. Shashank is seen entering the hospital while greeting every person he meets on the way and when he finally gets alone he gets suffocated. Dr. Vardaan mocks him indirectly for his views and also expresses his happiness for Dr. Shashank quitting his post. Dr. Shashank says that he's only quitting his post and not Sanjivani and leaves to address interns.
Sid's fellow doctor asks him if he's not attending the orientation program for which he says that it's been three years since he's listening to the speech. He says he's very well aware of what will happen in the speech and says right now the child's life is more important. A parallel is shown between Dr. Shashank and Dr. Sid who exactly says what is presented in the speech. In the meantime he finds the kid's brain bleeding and rushes for operation and informs his fellow doctor to ask Dr. Shashank to join him after the speech.
Dr. Vardaan gets to know about the operation by Sid. Sid comforts the kid and assures him to be fine soon. Dr. Vardaan calls him out and scolds him for doing Dr. Shashank operation. He scolds him for money while on the contrary, Dr. Shashank gives a speech about how money is not important in Sanjivani.
Vardaan asks Sid to send the kid to the government hospital and scolds him for helping poor people under his nose. Sid says he'll arrange the money and ask him to let him do the surgery and Dr. Vardaan agrees. The child's mother gets hyper hearing the amount but Sid assures her that everything will be sorted out.
Dr. Shashank asks if there's any question while Aasha asks him the reason for quitting the post of Chief Surgeon. Shashank says that he's quitting because he wants to give an opportunity to the younger generation and about the person who's replacing him will be announced in two days while Dr. Anjali gets irked.
Dr. Shashank states Dr. Anjali the reason for him not announcing her name and asks her to not mind it. Ishaani gets her accessories from the authorities and wears them proudly. She's bewildered at the fact that she's now a doctor.
Sid meets another girlfriend and they get into some conversation. Ishaani gets her uncle's call and she gets happy that he's gonna wish her but to her disappointment, he gave her set of instructions and cuts the call. Aasha wishes Ishaani for her birthday and asks the party for it. She drops the used paper cup in the wrong dustbin and Ishaani creates a Hungama over it and threatens to call the police.
Aasha having had enough of her drama do as she says and leaves pitying the person who gets in an argument with her. Ishaani on her way finds the kid brought by Dr. Sid sinking and rushes to his aid. The nurse tries stopping her as it's not her case but she turns a deaf ear. She treats him and finally, he gets stable. Nurse apologize Ishaani for her behavior.
Ishaani starts leaving to report for her duty while the fellow doctor thanks her for reacting on time. Ishaani repeats Sid's words of opportunity and the doctor gets surprised with their same thoughts. He asks her to report to Dr. Sid Mathur about the update in the case and guides her to the VIP ward.
It's revealed that the girl is not his girlfriend but an upcoming Bollywood star and he lures her with various treatments charging her with high rates thus indirectly meaning that he's collecting money for the kid's operation. Dr. Ishaani sees it from outside and misunderstands him. She scolds him to be money-minded and threatens to complain about him. Sid gets irked with her behavior and challenges her to do so.
Precap: An emergency arrives and Ishaani and Sid treat her only to find her dead. Dr. Shashank once again collapses and calls out for Juhi. Dr. Anjali calls Juhi and asks her to arrive at Sanjivani as Dr. Shashank has a brain tumor.